What a difference four years makes.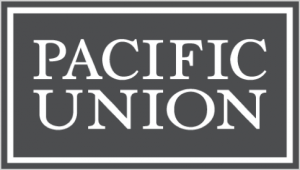 On August 4, 2009, the principals of boutique real estate brokerage Morgan Lane acquired the assets of GMAC/Brookfield-owned Pacific Union, in what some onlookers termed a "David and Goliath" endeavor. The move was greeted with skepticism that the resulting firm could even survive the real estate slump, much less prosper and evolve.
Mark A. McLaughlin, CEO of Pacific Union International Inc., reflects on the 2009 decision.
"Our vision was clear, our commitment intense, and our desire to return Pacific Union to its original culture was our primary goal," says McLaughlin. "For me it was all about the amazing people that believed in a historic Bay Area brand."
As we observe Pacific Union's fourth anniversary, we're of course extremely happy with how the business has performed and grown. But we're even prouder of our culture, which has fostered our success.
"Our driving principle of 'managing to the top' and investing in our people and business helps us attract and retain some of the best, brightest, and most successful real estate professionals in the Bay Area," says McLaughlin.
EARNING ACCOLADES IN 2013
In just the past four months alone, Pacific Union reached a number of regional and national milestones. In April, our year-over-year sales increased 46 percent to $3.9 billion to position us as the third-largest brokerage in Northern California, according to the San Francisco Business Times.
Later in the month, RISMedia named Pacific Union to its list of Top Power Brokers, placing the firm 18th in the country in 2012 total sales volume. In May, REAL Trends ranked Pacific Union third in the U.S. in average home sales price at just more than $1 million, making us the second-fastest-growing company in the nation.
The overall numbers are a reflection of our real estate professionals' expertise and drive to excel. REAL Trends found that Pacific Union's real estate professionals were among the most productive in the nation, ranking fifth in sales volume per professional with an average of $8.1 million in closed sales in 2012. And in July, eight of our real estate professionals were ranked among the top 250 in the U.S. by The Wall Street Journal and REAL Trends.
INCREASING INFLUENCE AND REACH

While 2013 has brought industry recognition to both Pacific Union and our team of professionals, the firm has been steadily building momentum over the past four years.  In fact, we've increased our market share by double-digit percentages in every region where we had a presence in 2010. The growth was most dramatic in Sonoma County, where we increased our market share by an impressive 181 percent. Pacific Union also enjoyed large market-share gains in Contra Costa and San Francisco counties. In terms of market share, we now occupy the top-five list in six of our eight regions (including Sonoma County and Sonoma Valley) and are coming on strong in our newest market, the Tahoe/Truckee area.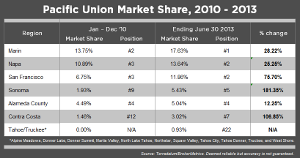 It will be fascinating to reflect on our growth in Sonoma County and the Tahoe/Truckee regions at this time next year. Along the way, we will commence operations in San Mateo and Santa Clara counties.
CULTURE COMES FIRST

While we're pleased with what we've accomplished since 2009, Pacific Union's vision of fostering a top-notch corporate atmosphere is perhaps the firm's largest achievement. "I am most proud about our culture – even more than the results," McLaughlin says. "Teamwork comes from the inspiring environment in which we all work, and that's a function of our people."
Several of our real estate professionals who were with Pacific Union before the acquisition compared the before-and-after mindsets. They observe that while the company culture has always been supportive and friendly, it has been taken to another level in the past few years.
Joske Thompson, who has been affiliated with Pacific Union since 1995, says the brand has taken its elegance to new heights and praises the company's "amazing sense of community."
Steve Gothelf, who was recently ranked 44th in the U.S. in sales volume, points to the firm's level of support and leadership as its two strongest cultural attributes.
"Company leadership makes it clear the goal is to facilitate elite performance and success," says Gothelf. "Strategic decision-making and focused efforts toward creating a stand-out company have changed significantly. There's a clear sense that a core group is steering the ship."
Newcomers to Pacific Union are also bullish on the culture. Nina Hatvany, who ranked 23rd in the nation in sales volume in 2012, cites the company's people as a key factor that influenced her decision to begin working with Pacific Union in January. "It's a very collegial and collaborative atmosphere with a lot of information sharing," she says.
Pacific Union's emphasis on people and culture has played a major role in both its low turnover rate and its headcount growth. McLaughlin notes that while most real estate brokerages have a churn rate of more than 20 percent, Pacific Union has lost fewer than a dozen professionals in the past four years.
In that same time period, the number of real estate professionals affiliated with Pacific Union has grown from approximately  400 to 520, or a 30 percent increase.
"The cultures and performance expectations of Morgan Lane and the original Pacific Union were nearly identical," says McLaughlin. "Our combination and growth is very exciting, but it is the culture I am most proud of; after all, we are in the people business. If I don't get the people right, the rest doesn't really matter."