Spring has brought new velocity for Bay Area real estate, with home prices moving upward, buyers champing at the bit, and new housing inventory coming onto the market. It's also brought new accolades for Pacific Union, which for the third year in a row has ranked as one of the top real estate firms not only in California, but in the entire country.
In the just-released 2012 Real Trends 500 Survey, which ranks the 500 largest residential real estate brokerage firms in the U.S., Pacific Union ranked third nationwide with an average sales price of $1,002,194.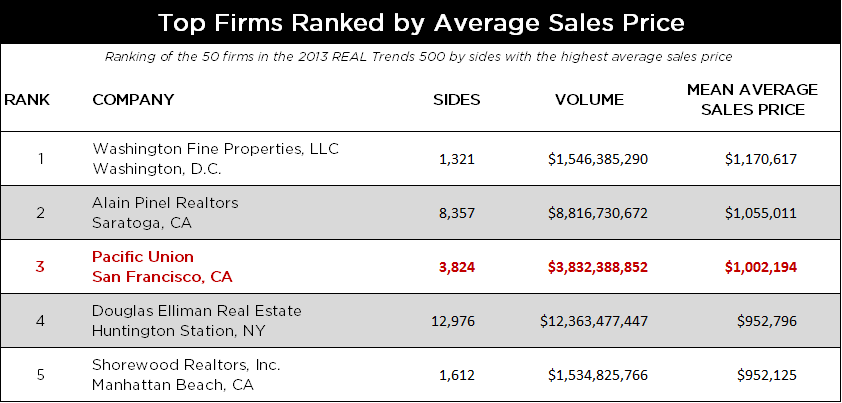 It also finished fifth in the nation in productivity, with an average sales volume of $8,154,019 per real estate professional.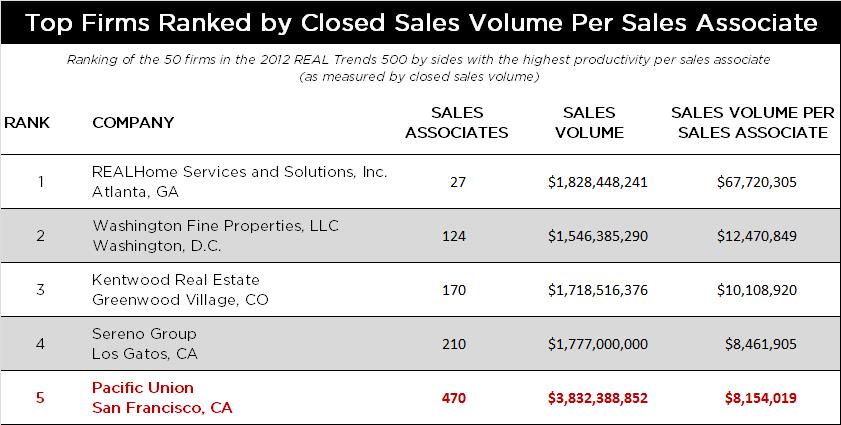 Other notable results:
Pacific Union was the number-one Real Living affiliate in the country based on homes sold (3,824)
We ranked #10 by increase in closed sales volume (a year-over-year increase of $1,206,997,553)
We climbed six spots from last year's list to rank at #18 in closed sales volume overall for 2012
The latest recognition comes on the heels of Pacific Union's inclusion in the San Francisco Business Times' list of the top residential real estate firms in the Bay Area, and Real Estate Magazine naming us one of the top power brokers in the United States.
Congratulations to our amazing team of real estate professionals, who outperformed almost all of their peers nationwide to help us post these incredible results. We're looking forward to more success to come!