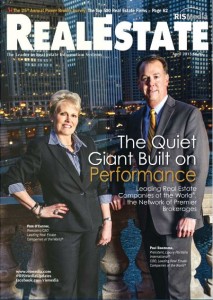 We're excited to announce that RISMedia's Real Estate Magazine has named Pacific Union one of the top "Power Brokers" in the United States for the second year in a row.
In a sign of our phenomenal growth over the past year, Pacific Union moved up in RISMedia's rankings of the top 500 brokerages, placing 18th in the nation in total sales volume based on $3.9 billion in sales in 2012. That's up from 23rd place last year.
When measured by the number of properties sold — 3,845 — Pacific Union ranked 125th, moving up from 170th the year before.
RISMedia released the rankings less than a week after the San Francisco Business Times listed Pacific Union as the third-largest residential real estate firm in the Bay Area, with sales growth more than double that of any other large firm in the region.
An article in the April issue of Real Estate Magazine noted that many real estate professionals had expected 2012 to be a transitional year as housing began the gradual process of recovery. However, "these expectations were widely exceeded and many brokers closed the year in much better shape than they had anticipated," the article said.
"A bit of positive news about the economy, getting past the presidential election, and a stabilizing housing market was all that was needed to get buyers and sellers off the fence and fueling the housing engine once again."
(Photo courtesy of Real Estate Magazine.)