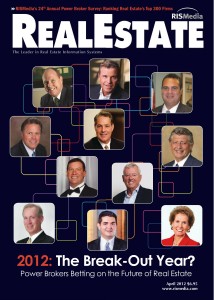 The accolades keep coming for Pacific Union International: We have been named one of the nation's top "Power Brokers" in a report just released by RISMedia's Real Estate Magazine.
The company was ranked 23rd in the nation in total sales volume, based on the $2.6 billion we posted in 2011. When measured by the number of properties sold, Pacific Union ranked 170th among the 300 brokerages who made the cut, with 2,722 transactions last year.
Among the 36 California firms on the Power Brokers list, Pacific Union was fifth in sales volume and 23rd in number of transactions.
Pacific Union's standing as a Power Broker is just the latest in a recent string of industry achievements. Earlier this month, we revealed that our agents rank fifth nationwide in productivity, averaging nearly $6.4 million in closed sales volume per agent.
Real Estate Magazine's Power Broker list is a testament to perseverance — and professionalism. Last year was a difficult year by any measure, but the top 300 brokerages managed to mark solid gains, reporting an 8 percent increase in sales volume, to $609 billion, and a 10 percent increase in transactions, to nearly $2.45 million.
The magazine noted that leading brokers are mostly optimistic about the coming year, as are we; we are seeing increased activity in our various regions and expect 2012 to be our best year since 2005 in much of the Bay Area.
However, a variety of external factors could influence the burgeoning market. Here are six variables to watch, according to the editors of Real Estate Magazine:
The election: Will economic conditions favor President Obama or his Republican challenger?
The job market: The employment picture has improved in recent months, but job growth remains critical to the housing market. Here in the Bay Area, job growth has been outperforming the nation and the rest of California, so we're optimistic about what this means for the housing market.
Weather: Did warm (and in our case, mostly dry) weather this past winter rob sales from the coming spring and summer?
Banks: Tight credit standards could continue to hamstring homeowners, although the recent mortgage settlement deal may provide some relief.
Investors: Leading brokers say investors will play a big role in the real estate market this year.
Renters: The rental market has been booming in recent years, but increasingly high prices — especially with the Bay Area rental bubble — could drive a return to home ownership.