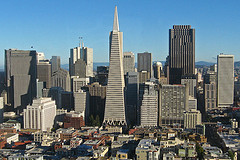 Things are looking up for the country's job situation and are even rosier in the Bay Area.
And that's great news for the real estate markets – because a healthy Bay Area job outlook drives consumer confidence, purchasing, borrowing, and home buying.
The highlights from last week's U.S. Labor Department employment report:
• The nation's jobless rate dropped to a near-three-year low
• Unemployment fell to 8.3 percent in January from 8.5 percent in December
• The drop marks the fifth consecutive monthly decrease
• Job gains of 243,000 (net new) blew away economists' expectations of a gain of only 150,000
As good as that sounds, things in the Bay Area are even better.
There are three factors swinging our way that are pushing us onward and upward.
1. We're Not California
At the risk of sounding flippant, Northern California – and specifically, the Bay Area – isn't "California." There's an important distinction between our state as a whole and our little slice of home. Although California's overall unemployment rate of 11.1 percent is still higher than the U.S. average, that doesn't hold true for the Bay Area.
According to the December county data from the California Employment Development Department, which were released last week, the six Bay Area counties we serve outperformed the California unemployment rate – and Marin and San Francisco rates were even lower than the national average.
| | |
| --- | --- |
| Location | December 2011 Unemployment Rate |
| Marin County | 6.5% |
| San Francisco County | 7.6% |
| United States | 8.3% |
| Sonoma County | 8.9% |
| Alameda County | 9.3% |
| Contra Costa County | 9.3% |
| Napa County | 9.0% |
| California | 11.1% |
In all cases except in Napa County, the rates had dropped from the previous month — and without exception all represented decreases from December of last year.

2. The Rolling Tech Tide
We have an added stimulus in our thriving technology industry, which is continuing to power healthy movement across various economic sectors. If this keeps up, we might even be willing to use the word "recovery" in tones louder than a whisper.
Bloomberg reported last week that hiring in the technology sector is gaining momentum. Among U.S. technology companies with a market value of more than $100 million, almost 50 increased employment by more than half in the most recently reported two-year period. And 74 expanded their workforces by more than 10 percent – more than any other industry group measured by Bloomberg.
The continuing trend of job creation in the tech industry should serve to support the declining unemployment rates and instill increasing confidence in Bay Area real estate markets.
3. The Facebook Factor
Finally, you can add the coming Facebook IPO into the mix. It's an event expected to turn about 900 Facebook employees into instant millionaires (and a few billionaires) and will surely cause a ripple effect in spending on real estate, travel, and consumer and luxury goods.
In addition, the IPO will likely spur additional job creation, both within Facebook and in new start-ups as well as in companies already working with or leveraging the platform. The Facebook IPO effect could boost other sectors and even the U.S. economy as a whole, a position articulated by the DailyFX, a publication by the foreign exchange market (Forex), last week:
"With a history of acquiring companies that it believes could be complementary to its core business, investing in new developments and vast overseas expansion, many investors believe that the additional cash raised by Facebook could flow into other sectors such as advertising and marketing. The potential for job creation could help boost the U.S. economy, and accordingly the U.S. dollar."
What's Ahead for Us?
This is likely the first time since 2007 that we have enjoyed consistent and positive trends in economic indicators. Most of our markets currently have more qualified buyers than we do realistically priced homes, and we are seeing the return of multiple serious offers on well-priced homes.
We see this optimistic economic news as a stabilizer to our local real estate markets, although it's not yet a catalyst for price appreciation.
However, the increasingly positive employment outlook coupled with our somewhat supply-constrained real estate environment will likely encourage home owners to list their properties and make the trade-up, relocation, or lifestyle changes that they have previously deferred until now.
Mark A. McLaughlin is Chief Executive Officer of Pacific Union International, Inc.
(San Francisco skyline image courtesy of Michael Larson via Flickr)