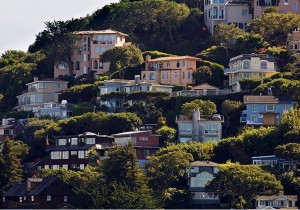 Pacific Union experienced tremendous growth over the past year, but even we were surprised (and pleased!) to learn that our sales growth in 2012 was more than double that of any other large real estate firm in the Bay Area.
The San Francisco Business Times last week published its annual list of the Bay Area's top residential real estate firms, and Pacific Union retained its ranking as the third largest in the region with 2012 gross sales of $3.3 billion in San Francisco, Marin, Alameda, and Contra Costa counties. Coldwell Banker was No. 1 with $9.8 billion in sales, and Alain Pinel was No. 2 with $5.8 billion.
However, measured by sales growth, Pacific Union led the pack with 2012 sales rising a phenomenal 45 percent from the year before. Sales were up 21 percent at Coldwell Banker, 19 percent at Alain Pinel, and 9 percent at J. Rockcliff, while sales fell 4 percent at Mason-McDuffie.
Pacific Union's growth has tracked the strong rebound in the Bay Area's real estate market in 2012 and into 2013. The region has led California and the nation in rising home prices and sales.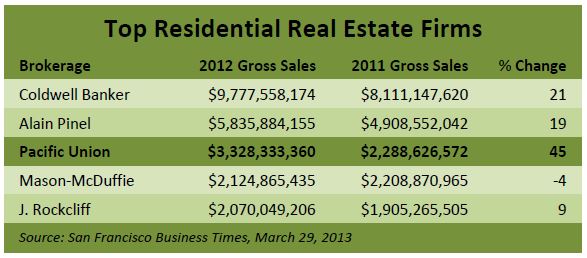 Pacific Union is the leading luxury real estate brand in Northern California. We are known for our neighborhood expertise, our team of talented real estate professionals, and our unflagging commitment to our clients. We don't define "luxury" by the price point of a home; we define it by the quality of our people and our unparalleled service.
The company is locally owned, with more than 450 real estate professionals in 21 offices in the Bay Area and Tahoe/Truckee. We offer a full range of personal and commercial real-estate services: buying, selling, relocation, mortgages, insurance, and property management.
(Photo courtesy of Latteda, via Flickr.)