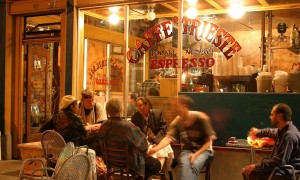 One of San Francisco's most classic neighborhoods, North Beach offers vibrant nightlife and dining, proximity to downtown, and a rich cultural history.
"There are so many beautiful landmarks — you have Saints Peter and Paul Church, and in Washington Square Park on any given morning you can see people doing tai chi," said Patrick Barber, president of Pacific Union's San Francisco region. "There are five restaurants or more on every single block and no shortage of nightlife. North Beach has great energy all the time."
Also called Little Italy, North Beach was once an Italian-American neighborhood home to baseball great Joe DiMaggio and former San Francisco mayor Joseph L. Alioto. In the 1950s the neighborhood became a hangout of Beat Generation writers like Jack Kerouac, Allen Ginsberg, and Lawrence Ferlinghetti.
In 1953 Ferlinghetti founded City Lights Booksellers & Publishers, which still offers a wonderful selection of books at Broadway and Columbus Avenue. Numerous striptease establishments and other nightclubs line Broadway including the famous Condor Club, which opened in 1964.
Beach Blanket Babylon, billing itself as America's longest-running musical revue, continues to attract crowds of tourists and locals alike.
Coit Tower in Pioneer Park is one of San Francisco's most beloved landmarks, and a flock of green parrots have long made Telegraph Hill their home.
North Beach boasts numerous restaurants and cafes. Some favorites include former beatnik hangout Caffe Trieste, the 75-year-old Original Joe's, Park Tavern with its delicious smoked deviled eggs and Marlowe burger, and Liguria Bakery, a classic establishment that remains open each day until it runs out of focaccia.
A line regularly snakes down the street for brunch at Mama's on Washington Square.
Many North Beach homes for sale date back to the 1910s and 1920s. In addition to a large number of apartments, the neighborhood offers a range of condominiums, two- and four-unit buildings, and some single-family homes.
In February the median price for a North Beach condominium jumped 49 percent to $895,000, up from $599,500 a year earlier, according to MLS data.
"My favorite thing about North Beach is it's still one of the two original San Francisco neighborhoods," Barber said.  "Its original charm is still present."
(Photo of Caffe Trieste by Thomas Hawk, via Flickr.)