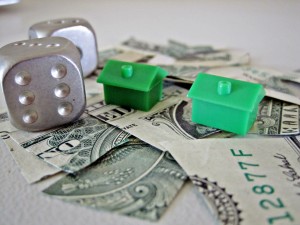 Here's a look at recent news of interest to homebuyers, home sellers, and the home-curious:
HOME PRICES JUMP
Home prices are on the rise in cities around the U.S., with San Francisco showing the second-strongest annual gain in the S&P/Case-Shiller 20-city composite index.
Overall, the index jumped 8.1 percent year over year in January, its biggest growth rate since June 2006. At the same time, the index reached its highest level since September 2010.
San Francisco trailed Phoenix as the city with the second-biggest annual growth rate. The City by the Bay saw its home prices jump 17.5 percent between January 2012 and January 2013, compared with Phoenix's 23.2 percent.
---
NEW-HOME SALES SLOW
Sales of new single-family homes dropped 4.6 percent to an annual rate of 411,000 in February from a month earlier.
Bad weather, particularly in the Northeast, likely contributed significantly to the decline, officials said.
However, the number was still 12.3 percent above the February 2012 rate of 366,000, the U.S. Census Bureau and the Department of Housing and Urban Development reported. The median sales price for new homes sold in February was $246,800, and the average price was $313,700.
Sales fell almost 14 percent in the Northeast, 9.7 percent in the South, and 2.1 percent in the West, according to the report. The Midwest, meanwhile, saw a 13.7 percent increase.
---
MORTGAGE CREDIT EASES
A recent report from mortgage software provider Ellie Mae indicates there's been a small but measurable loosening in credit.
In February the average FICO score for approved conventional loans was 761, compared with 767 for all of 2012. Last week CNBC also reported an easing back on tight loan standards, saying some buyers may now qualify for loans with down payments below the previously required 20 percent minimum.
"Most Realtors still agree with (National Association of Realtors) chief economist Lawrence Yun that underwriting rules are too strict, and that excessively tight rules are hurting the marketplace," columnist Ken Harney wrote. "Yun estimates that if credit conditions were to return to 'normal,' that could generate an additional 500,000 to 700,000 sales this year."
---
'SHADOW INVENTORY' DOWN
The "shadow inventory" of distressed homes dropped 18 percent year over year in January to 2.2 million properties, according to a CoreLogic report.
Shadow inventory refers to the number of distressed homes that are expected to reach the market soon but aren't listed for sale yet in a multiple listing service. It includes properties with seriously delinquent loans and those in foreclosure or held as real-estate owned (REO) by lenders.
Since peaking at 3 million homes in January 2010, the nation's shadow inventory has decreased 28 percent.
In California serious delinquencies fell 33 percent from a year ago, CoreLogic said.
"At this point in the recovery, we are seeing healthy reductions across much of the nation," Anand Nallathambi, president and CEO of CoreLogic, said in a statement.
(Photo by Images_of_Money, via Flickr.)