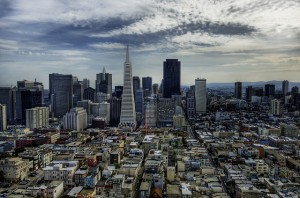 Tech companies like Pinterest and Square are increasingly choosing San Francisco over Silicon Valley for office space, and Twitter's move to the grungy Mid-Market neighborhood has spurred a slew of new leases there.
But how will all of this new tech activity downtown affect San Francisco's already tight housing market?
"Thus far, the primary push has been on rental units, which are up about 12 percent this year," said Patrick Barber, president of Pacific Union International's San Francisco region. "(The activity) has really pushed up the price of rentals."
As newer tech companies mature, early employees with generous salaries and stock options may be even more likely to invest in San Francisco real estate than high-tech workers who commute to Silicon Valley.
Already, tech workers are snapping up some of the city's priciest properties. Apple executive Jonathan Ive made headlines in September when he bought a $17 million home on Pacific Heights' Gold Coast, and Zynga CEO Mark Pincus purchased a $16 million home nearby during the summer.
Meanwhile, easy commutes south and proximity to employee shuttle stops have made neighborhoods like Noe Valley and the Mission red-hot housing markets.
Barber predicted that other neighborhoods like the already-popular Hayes Valley will become even more sought-after as more start-ups move into downtown San Francisco.
"Hayes Valley, with the coming down of the Central Freeway, already has amazing infrastructure and has undergone gentrification and beautification," Barber said. "That will only increase as the Mid-Market area strengthens and people move residential.
"Any time you're close to the bus routes of the Googles and the Apples, those home values have gone up," he added. "Now that the Mid-Market's going up, you're going to see real estate developers going in there and doing infill projects. You're just going to see economic growth in those areas."
WHAT IS SPURRING TECH GROWTH IN SAN FRANCISCO?
San Francisco leads the nation in tech job growth, according to data from real estate services firm CBRE cited in a recent USA Today article.
"Current growth is about double the rate of the next two fastest-growing markets of New York City and Silicon Valley, a boost that's lifted the city's tech jobs to more than 36,600, or 13% higher than the dot-com peak in 2001," the article stated.
Part of the appeal stems from the city's six-year payroll tax exemption for companies creating jobs in redevelopment zones like the Mid-Market area. In addition, rates per square foot of office space are now considerably lower in San Francisco than in downtown Palo Alto, Menlo Park, and other Peninsula locations popular among start-ups – and the city has better availability as well.
The phenomenon echoes a national and even transatlantic trend of high-tech businesses moving from suburban office parks to cities, which tend to attract the newest generation of workers who favor living in the urban core and biking or riding public transit to work.
Moving to the city has become increasingly easier for tech companies, thanks in part to the changing nature of technology itself. Companies are now less likely to need loads of space for hardware and huge engineering teams, according to a recent Wall Street Journal article.
And, of course, start-ups like being around other start-ups – meaning San Francisco seems poised to remain in the limelight at least for a while.
"San Francisco has definitely become the center of activity — it's definitely become the hotbed of a lot of exciting start-ups," Pulse CEO Akshay Kothari told USA Today. "It's a very strong pull right now."
(Photo of downtown San Francisco by Trey Ratcliff, via Flickr.)