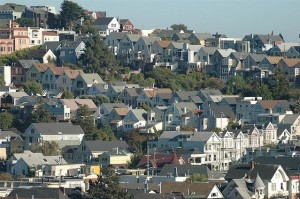 With its popular 24th Street shopping district, easy commute to the South Bay, and beautiful views, Noe Valley has become one of San Francisco's most desired neighborhoods.
"There's been a lot of activity in Noe Valley, and some record prices per square foot," said Patrick Barber, president of Pacific Union's San Francisco region. "More and more, the south side of the city is becoming a magnet for a new wave of buyers, whether it be Noe Valley or the Mission District, primarily because so many people commute down to the Peninsula."
Living in Noe Valley can shave 15 minutes or more off commuting south, and many Silicon Valley companies have employee shuttles that stop in the neighborhood. The J Church metro train and the 24 Divisadero and 48 Quintara buses are among the public transit options available in Noe Valley.
Numerous shops and restaurants line 24th Street, including a Whole Foods Market, the ever-popular Firefly restaurant, the Noe Valley Bakery, and Phoenix Books. Lovejoy's Tea Room, a quaint British tea room that remains a favorite for bridal showers, sits around the corner on Church Street.
A second, smaller shopping strip on Church near 29th Street features a Henry's Hunan Restaurant, Regent Thai restaurant, and Toast Eatery diner, which also boasts a 24th Street location.
Homes in the Liberty Hill area on the neighborhood's north end — bounded by Liberty, Hill, Church, and Castro streets – offer stunning views and proximity to Mission Dolores Park and generally sell at a higher price point. A lavish Christmas display on 21st Street attracts throngs of spectators each December to Liberty Hill.
Noe Valley enjoys some of San Francisco's sunniest weather, but conditions tend to get foggier as the neighborhood climbs toward Diamond Heights.
Nearby Dolores Park with its spectacular views, dog run, and free movie nights, remains one of the most popular hangout spots in San Francisco, and the city recently redid the park's playground as part of a large-scale renovation project.
The median sale price for a single-family home in Noe Valley increased to $1.5 million in July, up more than 37 percent from $1.1 million a year earlier, according to MLS data. Median condominium prices rose more than 55 percent over the same period to $900,000 from $580,370.
Meanwhile, supply has been shrinking as demand rises, leading to multiple offers and higher sale prices, our Noe Valley agents say. In July the number of single-family homes for sale declined 17 percent from the same month in 2011, while the number of homes sold increased 30 percent, MLS data show.
A two-bedroom fixer-upper on 24th near Douglass Street recently sold for $1.3 million, more than $400,000 over asking price.
While Noe Valley is known for its large number of young families, it remains appealing to a diverse crowd including singles and couples with no children, Barber said.
"Noe Valley has some of the best weather in the city and a very diverse housing stock with everything from old Victorians to modern homes to condominiums to apartment houses," Barber said. "It's really become one of the top neighborhoods."
(Photo of Noe Valley courtesy of Centinel, via Flickr.)