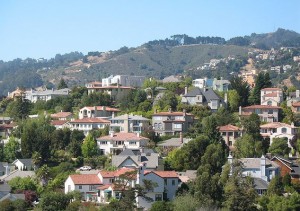 The Bay Area's red-hot real estate market continues to set records, with August home sales at a six-year high.
The nine counties making up the Bay Area posted 8,579 home sales in August, up 1.4% from July and 14.2% from a year ago, for the best August since 2006.
Low mortgage rates, an improving economy, and increasing demand in mid- to move-up market segments helped spur August's blistering pace.
Sales spiked 32.2 percent, year over year, in Napa County; 29.2 percent in Marin County; 29.1 percent in San Francisco; 22 percent in Alameda County; 19.3 percent in Sonoma County; 16.5 percent in Solano County; 9.3 percent in Santa Clara County; 5.6 percent in San Mateo County; and 4.6 percent in Contra Costa County.
The median sales price also rose across the Bay Area, from 2.3 percent in Marin County to 13.2 percent in San Francisco.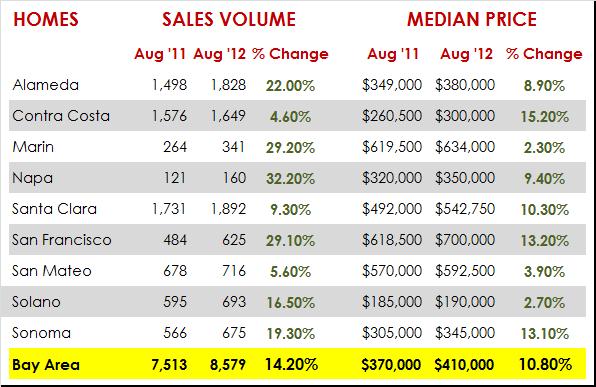 Other Bay Area statistics, from real estate information service DataQuick:
Foreclosure sales accounted for 14.9 percent of resales in August, down from 25.7 percent a year ago. Last month was the lowest since 14 percent in December 2007. The Bay Area's monthly average for foreclosure resales over the past 17 years is about 10 percent.
Short sales – transactions where the sale price fell short of what was owed on the property – accounted for 18.9 percent of Bay Area resales last month, up from 18.1 percent a year earlier.
Absentee buyers – mostly investors – purchased 23 percent of all Bay Area homes sold last month, up up from 21.2 percent a year ago.
Buyers who appear to have paid all cash – meaning there was no evidence of a corresponding purchase loan in the public record – accounted for 28 percent of August sales, up from 27.5 percent a year ago. The monthly average going back to 1988 is 12.6 percent.
The most active lenders to Bay Area home buyers last month were Wells Fargo with 17 percent of the market, RPM Mortgage with 4.6 percent and Bank of America with 3.3 percent. A year ago, BofA's market share was 8.2 percent.
(Photo of homes in Alameda County, in Oakland's Rockridge neighborhood, courtesy of Rbotman01, via Flickr.)