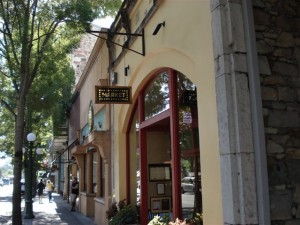 Nestled in the Napa Valley, the city of St. Helena offers a charming Main Street, rural beauty, strong schools, and a small-town feel.
"It has a sweet main-street downtown that's well-known, with shops and restaurants," said Linda Carroll, branch executive of Pacific Union's Napa and St. Helena offices. "It's a cohesive little town. Everybody knows everybody else, and it's just a tony address."
Buyers attracted to the city of 5,900 include young families, empty-nesters, and residents from other parts of the Bay Area looking for vacation and second homes. St. Helena enjoys sunny weather most of the year and boasts an array of gourmet restaurants including the Restaurant at Meadowood, which has earned three Michelin stars.
Other favorites include Cook St. Helena, Cindy's Backstreet Kitchen, Villa Corona, and French Blue. Gott's Roadside diner on Main Street is known for its onion rings and milkshakes. In addition, St. Helena is home to the Culinary Institute of America cooking school's California campus.
Also lining Main Street are a number of quaint shops, such as Pennyweight stationery, Steve's Housewares and Bridal Registry, and Woodhouse Chocolate. Grocery stores include Safeway, Sunshine Foods Market, and Dean & DeLuca just outside of town.
The 12-acre Crane Park features tennis, volleyball, and bocce courts, as well as baseball fields, picnic areas, and horseshoe pits.
City residents attend the St. Helena Unified School District from kindergarten through 12th grade. In 2011 the district earned a combined Academic Performance Index score of 821, the strongest overall score in Napa County.
St. Helena's main neighborhoods are: the West Side, an area with older homes and cul-de-sacs that's popular among young families; downtown, mostly home to shops and restaurants; the Signorelli subdivision on the city's east side; and the Sylvaner subdivision on the west end of town.
In July the median price for a single-family home sold in St. Helena shot up 103 percent to $1.26 million, compared with $620,000 a year earlier, according to MLS data. Meanwhile, demand continued to rise: The number of homes sold in July quadrupled compared with the same month in 2011, increasing from 3 to 12.
"There are more wineries, estates, more vineyards for sale," Carroll said. "The high-end is back — we had the best July we've ever had."
(Photo of St. Helena courtesy of Franschhoek Wine Valley, via Flickr.)