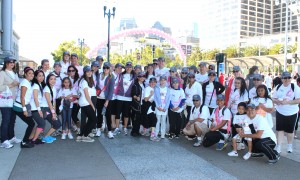 At Pacific Union we're used to competing in the toughest real estate markets in the country. Despite the challenges, we regularly rise to the top with the caliber of our real estate professionals, our sales volume, and our Bay Area market-share growth.
But our team recently took on — and conquered — a different sort of challenge: the 2012 Susan G. Komen San Francisco Bay Area Race for the Cure.
More than 150 members of the Pacific Union family signed on to tackle the race, which took place earlier this month and benefits breast-cancer research. That enthusiastic participation gave us the largest team in the 2,907-person race, well ahead of corporate behemoths like Safeway and Starwood Resorts.
Pacific Union won in more categories than just size: Participation from a cadre of dedicated road warriors earned us accolades as the fastest team overall in the race.
A special thanks goes to Ky Faubion, Blake Pearson, Barr Haney, Eric Altree, Scott Kalmbach, Michael Fanelli, Charlie Castro, Mathew Pouliot, Mason Barber, Michael Harrington, Amanda Michaels, Brent Thomson, Dan Joy, and Tracey Broadman for their extraordinary athletic efforts and blazing speed.
As of Sept. 19, our team raised more than $6,600, with donations continuing to come in through the end of the month. Fundraising for the entire race topped $160,000.
We'd like to congratulate our team on its stellar performance! To see more photos of our team in action, please visit our Facebook page. And for anyone who's interested, there's still time to donate at Pacific Union's official Race for the Cure page.
About the Susan G. Komen Race for the Cure
The Susan G. Komen Race for the Cure Series, the largest series of 5K runs/fitness walks in the world, raises significant funds and awareness for the fight against breast cancer, celebrates breast cancer survivorship, and honors those who have lost their battle with the disease. Since its inception in 1983, the Komen Race for the Cure series has grown from one local Race with 800 participants to a global series of more than 120 Races with well over 1 million people since 2005.