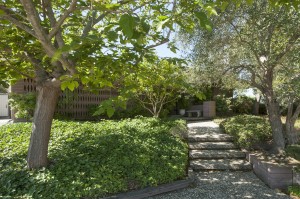 Our latest Home of the Week is a time capsule, but not to the Victorian era like so many other homes in the Bay Area.
Think "The Brady Bunch" or "Mad Men."
The home at 10415 Greenview Drive in Oakland was built in 1962 and has been meticulously preserved ever since, with vintage light fixtures and endless period details.
This ranch-style home has three bedrooms and three bathrooms. Sunlight streams through sliding glass doors into the wide-open living room, dining room, kitchen, family room, and master bedroom. Outside, the enormous patio offers gorgeous views of San Francisco and the Golden Gate and Bay bridges. The patio would be ideal as a sport court or city-style terrace.
Chabot Regional Park, Knowland State Arboretum and Park, and Sequoya Country Club are just blocks away.
Additional information:
Six rooms, 3,323 square feeet
Two gas-burning fireplaces
Carport
Stucco exterior
Offered at $615,000. Learn more about 10415 Greenview Drive, Oakland.
PHOTO GALLERY