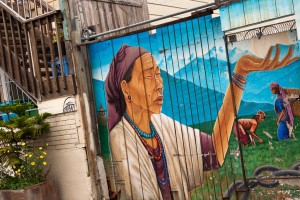 With its rich cultural background, amazing array of restaurants and bars, and arty vibe, it's no wonder San Francisco's Mission District landed a No. 2 ranking on Forbes magazine's America's Best Hipster Neighborhoods list.
"The Mission is one of the hottest areas for the young up-and-coming buyer," said Patrick Barber, president of Pacific Union International's San Francisco region. "Because it's one of the most vibrant and diverse neighborhoods in San Francisco, it attracts young, fun people who want to be in the urban center."
The historically Latino neighborhood began changing in the 1990s, as young tech workers moved in and trendy shops and restaurants opened. Today, it's an interesting mix of old and new with upscale cafes serving up single-origin espresso down the street from decades-old appliance stores and taquerias.
Residents enjoy some of San Francisco's best weather and terrific access to transit, including numerous Muni bus lines; two BART stations; proximity to Highway 101 and Interstate 280; and stops on various Silicon Valley employee shuttles. Two Caltrain stations are just a short distance away, and bicycling remains a popular way to get around the neighborhood.
Perhaps the Mission's biggest draw is its robust nightlife and dining scene. A few favorites include longtime staple La Taqueria, the popular Taqueria Cancun, Tartine Bakery & Cafe, Flour + Water, Foreign Cinema, Delfina, Universal Cafe, and Mission Pie, among numerous others.
For a cultural fix, head to gallery and event space The Lab, the 826 Valencia writing nonprofit (and pirate shop!), the Precita Eyes Mural Arts and Visitors Center, the Roxie Theater, or Galeria de La Raza.
The Mission Recreation Center offers indoor soccer, and crowds flock to Dolores Park on sunny days for the views, lounging, playground, and tennis courts. A line for delicious scoops regularly snakes around the block at Bi-Rite Creamery near the park.
Mission, Valencia, and 24th streets are the neighborhood's main business streets, and homebuyers include young singles, empty-nesters, and couples.
Mission homes for sale run the gamut from Victorians to two- to four-unit buildings to upscale condominiums, including a new 16-unit building at 411 Valencia St.
In September the median sale price for Inner Mission condominiums and single-family homes increased 56 percent to $810,000, up from $520,000 a year earlier, according to MLS data. That same month, the number of homes for sale dropped 26 percent, while the number of properties under contract shot up 80 percent.
"There's less turnover here," said one of our top Mission District real estate professionals. "People don't want to move. They're loving it." ­
(Photo of a Mission District mural by Gwendolen, via Flickr.)