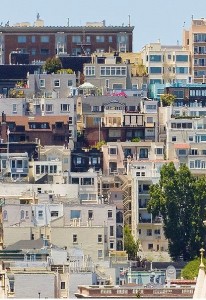 2013 is shaping up to be a busy year for real estate in the Bay Area.
Interest rates for long-term loans are at the lowest levels ever recorded, and the Bay Area economy is growing significantly faster than the rest of the country. Tech companies are hiring again, and tourism is rebounding. Thousands of new jobs are being created every month.
It's an ideal environment for homebuyers.
"Everything is pointing to a strong year in 2013," said Mark McLaughlin, CEO of Pacific Union International. "The fundamentals of the Bay Area economy are solid, and after years of stagnation the pent-up demand for homes in the Bay Area is palpable.
"Demand is continuing to exceed supply, which could push prices higher, and that will encourage more homeowners to put their property on the market," McLaughlin said. "You can be certain that buyers will be waiting."
A recent forecast from the California Association of Realtors says home sales statewide will rise a modest 1.3 percent next year, but we anticipate much more robust activity in the Bay Area.
We're already blowing past the C.A.R.'s estimate for 2012: The association predicts that home sales in California will rise 5.1 percent this year, but a check of MLS data for the first three quarters shows sales in our seven Bay Area regions up an average 15 percent compared with last year.
The Sonoma Valley region leads the Bay Area with home sales up 27 percent so far this year, followed by Marin County (21 percent), Sonoma County (18 percent), the East Bay (17 percent), Contra Costa and Napa counties (12 percent), and San Francisco (10 percent). In our Tahoe/Truckee region, sales for the first three quarters are 17 percent ahead of last year.
Skyrocketing rental rates will keep homebuying an attractive option. In fact, a recent report from Trulia determined that owning a home in San Francisco is 28 percent cheaper than renting. It calculated the average cost of home ownership in the city at $2,327 a month versus $3,226 for renting, for savings of $899 a month.
Low inventory and restrictive lending policies remain a challenge, and buyers can expect bidding wars through much of 2013 for desireable properties across the Bay Area.
Our advice for buyers: Determine what you can realistically afford, and get your financing and other paperwork in order up front. And then be ready to pounce when you find your dream home, and be prepared for a fight. Good luck!
(Photo of crowded San Francisco homes courtesy of Greg Balzer, via Flickr.)