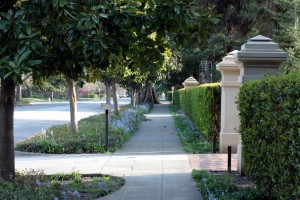 With its beautiful tree-lined streets, historic homes, and great walkability, the McDonald area remains one of the most-desired neighborhoods in Santa Rosa.
Named after civic developer Col. Mark McDonald, the neighborhood offers a rich history and stately homes, some dating back to the 1800s.
"The McDonald area is where a lot of the substantial, older-moneyed founders of Santa Rosa made their homes way, way back in time," said Rick Laws, a senior vice president at Pacific Union International and branch executive of our Sonoma County office. "There's just incredible, beautiful properties, old tree-lined streets, and exquisite architecture there."
Bounded by Fourth Street, North Street, and Bryden Lane, the neighborhood's close proximity to downtown makes it a snap to get to shops, restaurants, and Santa Rosa Memorial Hospital. Nearby businesses include Rosso Pizzeria and Wine Bar, Midtown Cafe, the Pacific Market, and the Town and Country Shopping Center.
Residents also enjoy access to some of the city's top schools. Proctor Terrace Elementary School earned a 2012 Academic Performance Index score of 898, and Santa Rosa Middle School received a rating of 813.
Thanks to its classic exterior, Santa Rosa High School has appeared in a number of films, including "Peggy Sue Got Married," "Inventing the Abbotts," and "Scream."
McDonald area homes range in style from classic Victorian to Craftsman to Italianate. The McDonald Mansion, Mark McDonald's former summer home, dates back to 1879 and recently underwent a multimillion-dollar renovation.
Charming smaller homes, previously occupied by wealthy residents' maids and butlers, remain scattered throughout the neighborhood.
Home prices range from $500,000 to as high as $6 million, with the majority of McDonald area homes selling for $800,000 to $1.5 million, one of our top Santa Rosa real estate professionals said. In September the average price of Santa Rosa homes for sale was $377,300, according to MLS data.
The neighborhood's beauty tends to capture the hearts of homebuyers.
"I can't tell you how many times we've taken people out looking at homes, and they may not even be thinking, 'I'm going to live in the MacDonald area,'" our real estate professional said. "Then you drive through it, and you see the emotion on people's faces."
(Photo of McDonald Avenue by Sean Freese, via Flickr.)