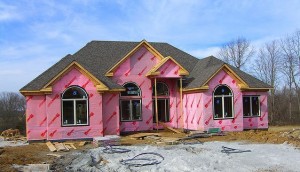 The Bay Area's economic outlook keeps getting brighter, and that's good news for our real estate markets. August delivered good news on a number of fronts.
Unemployment is dropping
Unemployment in August dropped by solid margins across the Bay Area, which already enjoys some of the lowest jobless numbers in California.
Marin County already had the lowest unemployment rate in the state in July, just 6.7 percent, but it dropped an additional 0.4 percentage points in August to 6.3 percent. We saw decreases in our other regions as well, although statewide unemployment remains stubbornly high at 10.6 percent. The national average in August was 8.1 percent, down from 8.3 percent in July.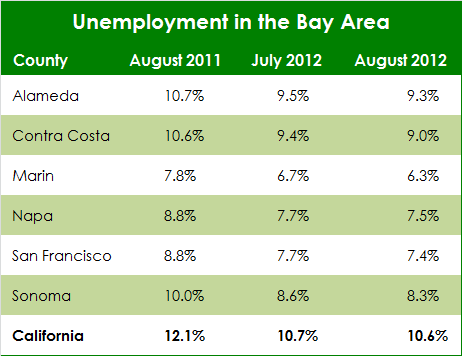 Job growth is increasing
The Bay Area led the state in the number of new jobs created, and the construction and housing industries show bright promise for continued growth.
California employers added 12,000 new jobs last month, for a 2.3 percent job growth rate over the past year, far above the national average of 1.4 percent.
In the San Francisco metro area alone, more than 38,000 new jobs were created over the past year. Statewide, the construction industry added 5,100 jobs in August and 33,000 over the past year.
"California continues on a path of sustained job growth — faster than the nation but slower than anyone wishes for," said Stephen Levy, director of the Center for Continuing Study of the California Economy (CCSCE) in Palo Alto, in a report analyzing the EDD's August employment numbers.
"Other news confirms that the housing market is recovering and new housing, particularly for apartments, is increasing," Levy noted. "A recovery in housing and construction would add strength to the recovery that so far is led by tech, trade and tourism."
Home sales are improving
The latest proof of that recovery in the Bay Area came last week, when a tally of August real estate activity put home sales at a six-year high. Third-quarter sales will be counted soon, and our real estate professionals tell us that Bay Area sales showed no signs of retreat.
Looking ahead, economists see continued strong economic growth in the Bay Area and California. The UCLA Anderson School of Management, in a quarterly report released this week, predicted that California's economy will continue to outpace the U.S. economy for the next several years and unemployment in the state will fall to 7.9 percent by the end of 2014.
(The home construction photo is courtesy Btsiders, via Flickr.)