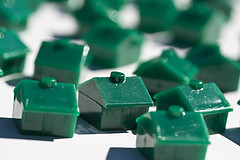 Here's a look at news this week of interest to homebuyers, home sellers, and the home-curious:
STOP THE PRESSES! JULY PRICE REPORT!
The data is old and the conclusions obvious, but business journalists gave top billing this week to the latest S&P Case-Shiller Home Price report, which declared that home prices rose modestly in July in the nation's 20 largest metro areas.
Never mind that other researchers have already released data for August (a modest uptick in prices nationwide), and September results will be announced next week (same as August, according to forecasts). But, for the record: July home prices were up 1.2 percent, year over year, in the top 20 markets.
Pardon our sarcasm, but the monthly Case-Shiller reports offers scant help where it matters most – in local real estate markets where actual prices can vary wildly from national averages. For example, we reported last week that Bay Area home prices posted solid gains in August: from 2.3 percent in Marin County to 15.2 percent in Contra Costa County, for an average increase of 10.8 percent. Take that, Case-Shiller!
BIG JUMP IN NEW-HOME PRICES
More news on home prices: The median price of new, single-family homes sold spiked 11.2 percent in August from July, a new record, according to a U.S. Commerce Department report. Annually, prices rose 17 percent, a welcome sign that homebuilders are busy and buyers are eager.
WHY ARE PRICES RISING?
The Wall Street Journal's real estate blog answers five questions central to any discussion of the recent rise in home prices. It's brief, smart, and worth a look.
A CAUTIONARY REPORT ON HOME PRICES
Here's the final word on homes prices this week, with a caveat that the Bay Area real estate scene is markedly different from what's described here. That said, CNNMoney posted data from the research firm Fiserv suggesting U.S. home prices, on average, won't return to their 2007 peak for another 11 years — add another three years to that for California homes (2026!).
Fiserv based its report on many assumptions that may not prove true. It assumes prices will rise 3.7 percent a year, or 4.4 percent in California, and its broad averages don't allow for local variations. We noted above that home prices in the Bay Area rose an average 10.8 percent in August, year over year, and even that average varied widely from county to county.
It's true that it may take several years before many Bay Area communities see 2007 prices again, but our real estate professionals in San Francisco, for example, tell us that prices today are very nearly there. Our advice: Pay attention to local experts, not statisticians.
ZILLOW STOCK'S WILD RIDE
Shares of the online real estate search service Zillow took a wild ride this week after a stock analyst issued a scathing report on the company's business model. The report from Citron Research declared that Zillow is dramatically overvalued compared with other online real-estate sites and pointed to a steady stream of insider sales.
Zillow shares dropped nearly 7 percent on Tuesday before mostly recovering Wednesday after the company forcefully denied the report's conclusions.
PENDING HOME SALES REPORT
The California Association of Realtors said pending home sales rose 2.7 percent from July to August, but year-over-year sales were down 2 percent because of the continued shortage of housing inventory across the state. The lack of supply sent the share of equity sales to its highest level in four years, the C.A.R. said.
(The image above is courtesy Woodleywonderworks, via Flickr.)