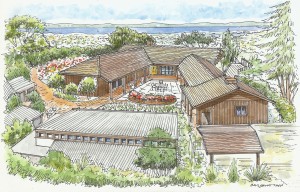 Calling all urban gardeners!
Our Home of the Week is a rare find: a comfortable, 1950s ranch-style home on 3 acres of land with an extensive greenhouse that once was home to 1,000 orchids.
Nearby are lush planting areas with terraced beds, fruit trees, and a large selection of roses and irises.
Located high in the Oakland Hills, with panoramic views of San Francisco Bay, the home at 2 Cathy Lane has a light, open floor plan with a large family room, two bedrooms and two and a half baths.
Outside, in addition to the greenhouse, is an enclosed pool, a workshop, and several outbuildings with plenty of storage space. Much of the yard is deer-proofed, with a fenced dog run.
Additional information:
Six rooms, 2,131 square feet
Wood siding
Hardwood floors and wall-to-wall carpeting
Gas fireplace
Two-car carport
Offered at $899,000. Learn more about 2 Cathy Lane, Oakland.
PHOTO GALLERY