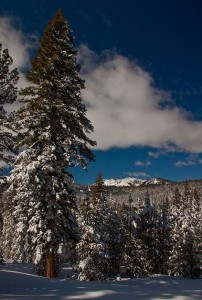 Among the many vacation communities surrounding Lake Tahoe, few can match the first-class amenities and natural beauty of Tahoe Donner, a planned development of 5,700 homes on the western edge of Truckee.
Tahoe Donner covers 6,000 acres of pristine alpine backcountry in the Sierra Nevada mountains, located just off Interstate 80 and less than 20 miles from Lake Tahoe. It's home to a championship golf course, a tennis complex with 11 courts, a private marina and boathouse, the Tahoe Donner Ski Area, a cross-country ski area, an equestrian center, campgrounds, and 20 miles of trails for hiking and mountain biking.
A recently expanded fitness complex, open all year, has a lap pool, swimming pool, and fitness center, and offers pilates and yoga classes. Activities for children include day camps, nature hikes, and picnics.
The ski area is known for its junior developmental ski programs and offers 14 runs, two chairlifts, and three surface lifts. The ski lodge stands 6,750 feet above sea level, and the summit is at 7,350 feet.
Homes at Tahoe Donner range from condominiums starting below $100,000 to stunning mountain homes priced above $1 million. An annual homeowner fee of $1,375 includes access to a range of private amenities at the development and provides discounts at the ski resort, tennis complex, and other facilities open to the public. An optional $225 fee waives all charges at the public facilities as well.
Tahoe Donner is a quiet community, with only a quarter of homes occupied year-round, and residents say the area is remarkably crime-free.
Truckee's historic downtown is two miles away, with its mix of restaurants and shops tucked behind carefully restored, century-old storefronts.
Settled 150 years ago, Truckee boasts a charming downtown area with an old-West feel and a picturesque train station, built in 1900, on the main thoroughfare, Donner Pass Road. Amtrak provides daily service to the town via its cross-country California Zephyr route, with its western terminus in Emeryville.
In addition to its recreational facilities and postcard views, our real estate professionals in the area say that Tahoe Donner has become a popular destination because of its easy access, with the main road into the community less than a quarter-mile from an Interstate 80 exit.
On busy winter weekends the roads and highways further east, near Lake Tahoe and larger ski resorts, can get as crowded as downtown San Francisco. Getting out of the traffic in Truckee can shave an hour or more off a vacation commute.
(The Tahoe Donner photo is courtesy Nicogoyui, via Flickr.)