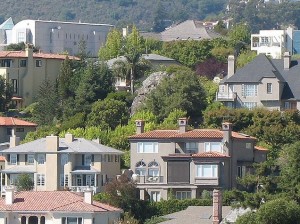 The East Bay housing market has trailed San Francisco in its recovery from the recent recession, but that may not be the case for much longer.
Recent reports suggest the region's economy is poised for substantial growth in the coming year, with an influx of new tech jobs, dwindling unemployment, solid commercial development, and thousands of new apartments and single-family homes in various stages of construction.
All that activity promises to spark robust growth in the local real estate markets.
Housing has always been a cornerstone of the East Bay's economy, and five years ago the industry collapsed. But the recovery is evidenced by new housing projects across the region.
Construction has started on more than 1,000 apartments in the East Bay in recent months, including a 175-unit complex in Emeryville, a 94-unit complex in Berkeley being developed by Archstone, and a 79-unit complex on the Oakland-Emeryville border being built by Madison Park Financial, which also announced plans to break ground on a 92-unit live/work project in West Oakland.
Last week, the state Employment Development Department gave a sign of the industry's health when it reported that the construction sector added 5,100 jobs statewide in August and 33,000 over the past year.
Commercial development is also rebounding.
"This is the hottest topic – the East Bay – nationally," said Christopher Peatross, president and CEO of San Francisco-based Swift Realty Partners, at an East Bay development conference last week. "Northern California is without a doubt the hottest market in the world. Everyone wants to know if it is too late to invest in Northern California."
The East Bay could also see new job growth in the tech sector as companies continue to expand across the region. General Electric recently established a new Global Software Center in San Ramon with 400 engineers and expects to employ as many as 800 engineers and researchers by year-end.
Unemployment remains high in the East Bay — 9.3 percent in Alameda County and 9 percent in Contra Costa County – but the rates have been steadily dropping over the past year and remain well below the statewide average of 10.6 percent.
And in what may be the most telling sign of the East Bay's growth potential, an Oakland neighborhood has been named one of America's best hipster neighborhoods.
Two weeks ago, Forbes magazine put Oakland's Uptown neighborhood at No. 9 on its list of the top 20 hipster neighborhoods, citing rapid growth in the area.
"New restaurants, bars and coffee shops have been opening weekly, and arguably the some of the best farmers markets in the country take place here," Forbes noted. "The district was deemed the city's entertainment center in the early 2000s and since then art galleries, an improv theater, and several medical marijuana clubs have sprung up to cater to the growing community."
(Photo of Rockridge homes courtesy of Rbotman01, via Flickr.)