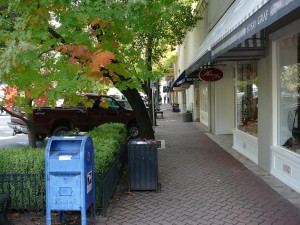 Healdsburg may be one of Sonoma County's best-known tourist attractions, but the city of 11,000 is also a fantastic place to call home.
With its strong agricultural roots, charming downtown, and world-class restaurants and wineries, Healdsburg attracts a range of home buyers eager to live in the Russian River city.
"Healdsburg hasn't lost its agricultural roots or its charm, but it's certainly added a lot of upscale, fun retail, restaurants, and wine tasting," said Rick Laws, a senior vice president at Pacific Union International and branch executive of our Sonoma County office. "There's mostly wine tasting, retail, and restaurants in the 'walking zone' around the plaza … and especially on Healdsburg Avenue, where there's new hotels and fabulous restaurants."
Favorite eateries include Madrona Manor restaurant, Zin Restaurant & Wine Bar, and Ravenous Café and Lounge, among numerous others. Cyrus restaurant, which boasts two Michelin stars, is closing this month but may reopen in another location.
Healdsburg offers an array of wine tasting rooms including Murphy-Goode, La Crema, and Kendall-Jackson. Those in the mood for a handcrafted lager or ale head to the Bear Republic Brewing Co.
Opportunities for recreation and entertainment abound in Healdsburg, and the city has a large number of parks, including 11-acre Badger Park, a skate park, and swim center. The Healdsburg Center for the Arts features more than 100 local art exhibits a year, and summer concerts delight music-lovers in the city plaza.
Healdsburg homes for sale vary in style, with many sporting a Victorian or bungalow look and offering vineyard views. The average price for homes sold in August was almost $670,000.
As in many parts of the Bay Area and U.S., the supply of homes for sale has been shrinking as demand rises. In August homes for sale fell 32 percent to 104 properties, down from 152 homes a year earlier, according to MLS data. Meanwhile, the number of homes under contract increased 11 percent.
Healdsburg attracts many types of buyers looking for everything from second homes to vineyard properties to primary residences.
"It's a huge mix," Laws said. "There are some people there whose home or ranch or store has been in the family for four or five generations, and then there's other people who are retirees who move there."
(Photo of Healdsburg by Stephen Walli, via Flickr.)