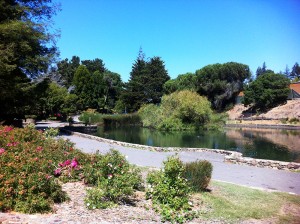 Oakland's Montclair neighborhood is the place to be for outdoor enthusiasts and families with young children. Nestled in the Oakland hills, the neighborhood boasts highly ranked schools, spectacular views, and easy access to nature.
"People love the trees, views, miles of trails, and Tahoe-like setting," said Pam Hoffman, a senior vice president at Pacific Union and branch executive of our East Bay offices. "The quaint Village of Montclair has an old-school, small-town feeling."
The popular Montclair Village shopping district, known as "the Village," features a friendly neighborhood vibe and numerous shops and restaurants, with most activity clustered around three busy blocks of Mountain Boulevard and its side streets. Local favorites include McCaulou's department store, Montclair Toyhouse, A Great Good Place for Books, and the Wheels of Justice Cyclery.
Montclair Egg Shop attracts hordes of hungry locals for breakfast, and El Agavero remains a favorite dinner spot for families. Stop by Crogan's Montclair for drinks and conversation, or grab a cup of joe at Nelly's Java at 1952 Mountain.
A Halloween parade for children and various food and wine festivals attract crowds to the Village each year, and a weekly farmer's market is a favorite Sunday-morning ritual for residents. The 7-acre Montclair Park sits right next to the Village and offers two playgrounds, a duck pond, tennis courts, a recreation center, a baseball diamond, and picnic areas.
The neighborhood is popular among cyclists, runners, and other outdoorsy types who take advantage of the trailheads off Skyline Boulevard and steep-but-lovely Shepherd Canyon Road. Montclair residents can also enjoy three beautiful recreation areas nearby: Redwood Regional Park, Huckleberry Botanic Regional Preserve, and Robert Sibley Volcanic Preserve.
Montclair offers excellent elementary schools that earn consistently high rankings. Montclair Elementary School received a state Academic Performance Index score of 972 in 2011, and Thornhill Elementary School earned a 954.
Nearby highways 13, 24, and 580 offer easy access to San Francisco, downtown Oakland, Berkeley, and Contra Costa County. The area is also well-connected to public transit, including the Rockridge BART station and the Transbay V-line bus, which stops right in Montclair Village before heading to San Francisco.
Architecture varies in Montclair, but many homes date back to the 1960s and feature "Tahoe-like" designs with wood siding and decks. As in many parts of the Bay Area, the competition for attractive, well-priced properties has been stiff of late.
Both sales volume and home prices are on the rise. The number of Montclair homes sold in August was up 16 percent from the same month a year earlier, increasing from 25 to 29. Also in August, the average sales price rose 10 percent to $692,768, compared with $628,368 in 2011.
"Like everywhere else, the good homes are selling quickly and with multiple offers," one of our top Montclair agents said.