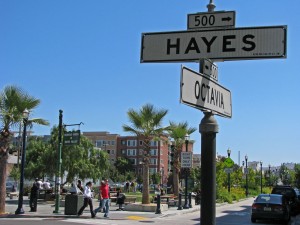 Want to live in the center of all the action with access to some of San Francisco's best public transit? Hayes Valley is the neighborhood for you.
"Hayes Valley is hot, hot, hot," said Patrick Barber, president of Pacific Union International's San Francisco region. "It's just very hip and very young and very happening, and yet you've got the opera house and Davies Symphony Hall right there."
The neighborhood took off after the 1989 Loma Prieta earthquake damaged the Central Freeway, leading to the removal of ramps at Franklin and Gough streets. It's now home to an array of boutique shops, trendy restaurants, and galleries.
Condominiums make up a large portion of Hayes Valley homes for sale. In September the median price of condominiums in the neighborhood increased 18 percent to $822,500, up from $695,000 a year earlier, according to MLS data.
The neighborhood centers on a small park called Patricia's Green on Octavia Street between Hayes and Fell, home to a playground, inventive sculptures, occasional food trucks, and Smitten Ice Cream, which serves up made-to-order scoops with its liquid nitrogen technology.
Java drinkers flock to Blue Bottle Coffee on Linden Street, a tiny alley between Hayes and Fell with landscaping and a seating area. Dark Garden, a leather, lingerie, and corset shop, also attracts shoppers to the alley.
Favorite Hayes Valley dining includes Absinthe Brasserie & Bar, known for its inventive cocktails and French fare; Brazilian churrascaria restaurant Espetus; Chicago-style pizza joint Patxi's; carnival-themed restaurant Straw; Japanese Izakaya spot Nojo; and the ever-popular German eatery Suppenküche, which has also opened a beer garden across from Smitten.
The charming Hotel Biron wine bar is located on Rose Street, and Fillmore staple the Grove opened a cafe on Hayes and Franklin last year. The Fatted Calf Charcuterie offers an astounding supply of meats, cheese, and other treats, and even holds a "pork happy hour" on Wednesday evenings.
SFJAZZ is building a new concert hall at 205 Franklin Street, scheduled to open in January 2013.
Hayes Valley's central location near City Hall gives residents some of the easiest access to public transit, Highway 101, and the Bay Bridge in San Francisco. Both Muni and BART have train stations in the neighborhood, and numerous buses run along Van Ness Avenue and surrounding streets.
The neighborhood also boasts community farm and garden the Hayes Valley Farm and is home to the French American International School.
"Now that the Central Freeway has been taken down, it has really opened up Hayes Valley to be a shopping and eating mecca," Barber said.
(Photo of Hayes Valley by Steve Boland, via Flickr.)