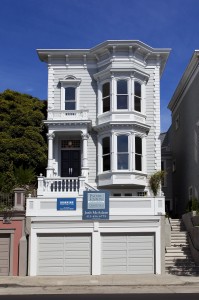 Every house has a story to tell, but few can match the stories told (and untold) about the stunning Italianate Victorian at 1836 Pine St. in San Francisco.
Its history dates to 1865, when the home was built for local pianist and composer Frederick Zech, who insisted on 13-foot ceilings on the first floor to provide proper acoustics for the small concerts he conducted there.
The home's musical connection didn't stop with Zech's passing. Hardly.
By the mid-1960s, then a bit worse for the wear, the home was a flophouse for local musicians in San Francisco's budding rock 'n' roll scene — some of whom went on to national fame, according to rock 'n' roll historians. And once again the home became an impromptu concert hall for its residents before they took their acts to the Avalon Ballroom and Fillmore West and beyond.
Fast-forward to today and the place has been spruced up a bit. In fact, the home is once more in sparkling, turn-key condition after a down-to-the-studs renovation, with high-end finishes and hardware throughout.
The home sits completely detached on an oversize lot, and features a formal dining room, living room, a huge great room, five bedrooms, and four and a half baths, all above a two-car garage. Two sets of French doors lead to a deck garden and terraced rear yard.
What's the next act for this storied home? Stay tuned!
Additional information:
19 rooms, 4,500 square feet
Double-paned windows throughout
Gas fireplace in the living room
Two laundry rooms
Hardwood floors (partial)
Offered at $3,349,000. Learn more about 1836 Pine St., San Francisco.
PHOTO GALLERY