Tucked away in southwestern San Francisco in the shadow of the iconic Sutro Tower, the small West Portal neighborhood appeals to families who seek a quiet atmosphere without sacrificing the conveniences of urban living.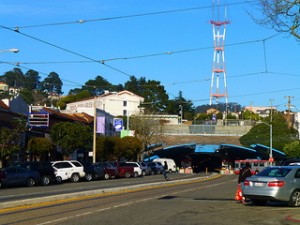 Surrounded by the southern portion of the Inner Sunset, Forest Hill, and Saint Francis Wood, West Portal is much more accessible than many of the city's other outlying neighborhoods, thanks to plentiful public transportation. The K-Ingleside, L-Taraval, and M-Ocean View light rail trains run through the West Portal Station and hit all major downtown stops and BART stations.
Those who commute by car to Silicon Valley can access Interstate 280 via a short drive on nearby 19th Avenue. Car owners will also appreciate West Portal's relatively plentiful street parking, a rarity in much of San Francisco.
Although West Portal is a largely residential area with mostly single-family homes, it has a walkable strip of restaurants and shops that rivals those found in more centrally located San Francisco neighborhoods. Walk Score, an online service that ranks neighborhoods based on amenities within a quarter-mile distance, gives West Portal an impressive walkability score of 89 on a scale of 100.
West Portal Avenue is the neighborhood's main promenade and home to an assortment of mostly mom-and-pop establishments, although you will find a Walgreen's pharmacy and a Starbucks. True to San Francisco form, the neighborhood's eateries serve an assorted mix of cuisines; standouts include new Italian spot Trattoria Da Vittorio, Peruvian establishment Fresca, and Greek restaurant Orexi.
Those who want to grab a nightcap after dinner can do so at the Dubliner or the Philosopher's Club, two well-known neighborhood taverns, or the Que Syrah wine bar.
Shoppers will also find almost everything they need along West Portal Avenue, including dedicated stores for books, toys, CDs, hardware, clothing, and flowers. The neighborhood has several smaller grocery stores, as well as its own movie theater.
Homebuyers with children are no doubt attracted to West Portal because of the high-quality public and private schools, but the neighborhood's large homes; spacious yards; and tranquil, suburban feel are also big selling points.
"[West Portal is] a sedate, quiet area of single-family houses, many with front and backyards, and the outward signs of proud ownership: good paint jobs, tidy landscaping, clean sidewalks," wrote user Sfsully on Pacific Union's West Portal neighborhood reviews page. "It's not quite 'Leave It to Beaver,' but in a 21st-century cosmopolitan city it's as close as you'll likely get."
Families will also appreciate the fact that West Portal has its own playground and library, both just around the corner from the Muni station. Larger parks, including Pine Line Park and Sigmund Stern Grove, are a short stroll away. The latter hosts a summer live-music series, with free shows every Sunday from June through August.
According to MLS data, the median single-family home price in San Francisco's District 4, which includes West Portal, was $1,012,000 in October, 12 percent above prices in the city overall. After hitting its yearly peak in August and September, the months' supply of inventory (MSI) in District 4 fell to 1.4 in October, nearly identical to the citywide MSI of 1.5.
Buyers in District 4 have been paying more than asking prices since February, sometimes as much as 12 percent more. In October, buyers in that part of San Francisco paid 7.5 percent above initial price, an increase of 4.5 percent from the previous month.
(Photo: Flickr/Matthew Valencia)