The Silicon Valley real estate market has been making both national and regional headlines within the past month – for good reason. Forbes magazine's list of America's Most Expensive ZIP Codes ranked three ZIP codes in the region in its top 10, and The San Jose Mercury News reported on a sales uptick of Silicon Valley homes priced above $1.5 million.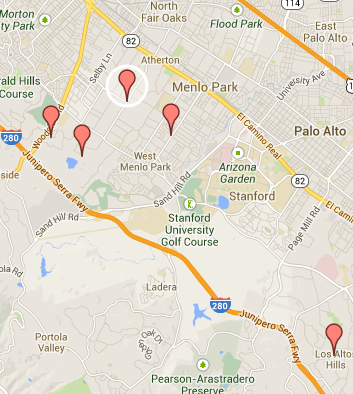 To gain even more granular insight into the superheated Silicon Valley market, we decided to explore individual neighborhoods – defined in this case as MLS areas – to find the five priciest enclaves in what is already one of the country's most affluent areas. Since there were quite a few close runners-up, we've also rounded out a top-10 list (which ends up being 13 neighborhoods to account for ties).
The data below was retrieved Oct. 29 and is valid for single-family homes in September. Pacific Union's Silicon Valley region includes Atherton, Los Altos, Los Altos Hills, Menlo Park, Palo Alto, Portola Valley, and Woodside. For this report, we have excluded the Woodside neighborhoods of Family Farm/Hidden Valley and Emerald Hills, which have not had a home sale since March and May, respectively.
1. West Atherton (Atherton)
With a staggering median sales price of $7,625,000, West Atherton tops our list, coming in at 26.5 percent more expensive than the No. 2 finisher.
The September median sales price in West Atherton is the second-highest it has been in the past 12 months and almost makes homes sold one year earlier a bargain, when the median sales price was $4,200,000.
With such a steep barrier to entry, the months' supply of inventory (MSI) is more than twice as large than in the Silicon Valley region overall (4.4 compared with 2.1). Similarly, West Atherton homes stayed on the market an average of 84 days, 64 percent longer than our entire Silicon Valley region, where the number was 30.
All four MLS areas associated with Atherton placed somewhere within our top 10.
2. Woodside Heights (Woodside)
Only five homes have been sold since January in the tiny Woodside Heights neighborhood, and only one sold in September. Nevertheless, the median sales price in Woodside Heights was $5,605,000, by far the largest we've seen in the past two years in that neighborhood.
The two Woodside Heights homes that sold during the third quarter received between 95 and 96 percent of the original asking prices, demonstrating that even buyers with seemingly unlimited funds can still benefit from bargaining.
3. West of Alameda (Atherton)
Though median home prices in Atherton's West of Alameda area actually hit their two-year peaks in July, August's $4,800,000 price tag (no homes in the MLS area sold in September) was high enough to place the neighborhood solidly in the third slot.
The neighborhood is likely to attract only the Bay Area's wealthier residents, but those who can spring for the price of admission will find that the MSI, at 11.0 last month, is tilted in the favor of buyers. West of Alameda homes lasted an average of 157 days on the market in September.
4. Central Menlo (Menlo Park)
Central Menlo was the only neighborhood in Menlo Park to post median sales prices above $3 million: $3,675,000 to be exact, a year-over-year gain of 65 percent.
Homes in Central Menlo sold for ever-so-slightly above their original prices in September and have dipped below the 100 percent mark only twice in 2013. Inventory in the neighborhood was much tighter than in other top-five markets, with an MSI of just 3.0. Homes in Central Menlo are in high demand, evaporating from the market in an average of eight days.
5. Los Altos Hills

Los Altos Hills, which comprises a single MLS area, rounds out the top-five list with a median sales price of $3,400,000, up 31 percent from last year. The median sales price in Los Altos Hills has been higher than it was September only once in the past two years.
Here are the rest of Silicon Valley's 10 most expensive neighborhoods:
6. Tie: Crescent Park (Palo Alto) and Central Portola Valley (Portola Valley): $3,350,000.
7. Lindenwood (Atherton): $2,750,000.
8. Tie: Country Club (Los Altos) and Midtown (Palo Alto): $2,650,000.
9. Community Center (Palo Alto): $2,620,000 (as of August; no homes sold in September).
10. Tie: Lloyden (Atherton) and Professorville (Palo Alto): $2,600,000.