Unabashedly quirky, Fairfax serves up a small-town vibe that stands in unique contrast to the more suburban settings of some other Marin County communities. But in addition to the town's one-of-a-kind character, Fairfax residents also enjoy access to some of the best outdoor recreational activities in the Bay Area — practically in their backyards.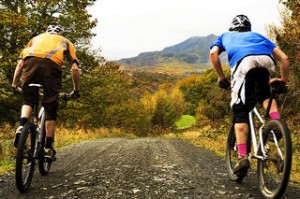 Located three miles northwest of the Marin County seat of San Rafael, Fairfax is about 10 times smaller in terms of area: just 2.1 square miles. Likewise, it is far less populated than San Rafael, with only about 7,500 residents.
Fairfax's compact downtown area, roughly centered around Broadway Boulevard and Bolinas Road, packs in more than a dozen locally owned shops and restaurants in a two-block stretch. The strip even has its own six-screen movie theater, which became the first multiplex in the nation powered by solar electricity in 2008.
Thanks to its small size and tightly centered downtown section, Fairfax is one of the most walkable communities in Marin County. WalkScore, an online service that assigns locations a walkability score based on amenities within a quarter-mile distance, ranks Fairfax a 97 on a scale of 100.
While Fairfax is indeed a good fit for pedestrian-minded homebuyers, it also draws outdoor enthusiasts of all stripes, according to Brent Thomson, senior vice president of Pacific Union's Marin County region.
"[Fairfax has] an exquisite natural setting, with access to some of the best mountain biking, trail running, and hiking in Marin County — and possibly Northern California," says Thomson.
Due to its central location within Marin County, the town lies within close proximity to the Golden Gate National Recreation Area, the Pacific Ocean, and dozens of smaller regional parks and preserves.
One of the closest outdoor playgrounds Fairfax residents have at their disposal is Cascade Canyon Open Space Preserve, a 498-acre county park that's popular with hikers and trail runners. Cascade Falls, which comes to life during the rainy winter and spring months, is one of the park's highlights and is easily accessible by a quick, 1.2-mile round-trip hike.
Marin is unofficially considered the birthplace of mountain biking, and the county's official bicycle coalition makes its headquarters in Fairfax. The Marin County Bicycle Coalition publishes a bicycle map that details mountain-biking trails and commuter routes across the county. The official Marin County Parks website also lists two dozen parks that offer biking trails.
The median sales price for a single-family home in Fairfax — many of which sit along winding streets in the hills surrounding downtown – was $634,000 in September, according to MLS data. The current median sales price represents a 2 percent increase from September 2012.
Fairfax homes are currently a hot commodity, selling for 8.9 percent above their original asking prices in September, the highest premiums we've seen in the town in the past two years. Meanwhile, homes in our overall Marin County region sold for an average of 5.8 percent below their list prices in September.
(Photo: Flickr/Paul Mattock)