Planning a move is certainly stressful, and that goes for your pets, too.
Days of confusion as your home is packed up are followed by the move itself, ending in unfamiliar surroundings at the new home. It's no wonder if your dog or cat is freaked out by the whole experience.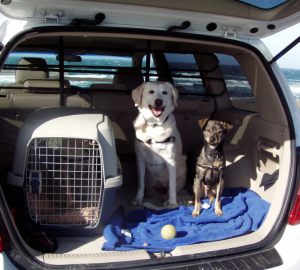 The American Society for the Prevention of Cruelty to Animals advises pet owners to think about their animals' needs far ahead of the move — starting with your first visits to prospective new communities. Walk around the neighborhood to determine whether it's safe for your pets, and look out for neighborhood dogs that seem aggressive or are left unattended.
Bring moving boxes into your home before you begin to pack, so cats and dogs will be familiar with them.
If you will be traveling by car, the Animal Humane Society recommends that you get your pet accustomed to the ride. Take short trips at first, then gradually increase the time. If your pet doesn't seem comfortable, your veterinarian may be able to offer suggestions.
If you are transporting your pet by plane, give yourself ample time to research airline regulations.
On moving day, keep your pets in a quiet room with the door shut and a sign warning "Do Not Disturb! Pets Inside." The last thing you need on such a hectic day is a skittish cat or dog bolting for an open door.
Make sure your pets are fitted with collars and identification tags with your name and current phone number. Having microchips implanted in your pets is recommended.
Keep any pet documents in a safe and accessible place. with an identification tag that is labeled with your current contact information.
If you will need a new veterinarian after the move, ask your current one for a copy of your pet's vaccinations and medical history. Don't wait until the last minute to ask your veterinarian for any medications or special food, especially if a pet is prone to car sickness.
Pack a bag for your pets, including bedding, towels, toys, treats, food, water, bowls, leashes, and harnesses.
When driving, a travel kennel, a crate, or a dog seat belt will keep your pets safe. While it may seem sensible to let your pets ride with you in the front seat to reduce their stress, they can also distract you from paying proper attention to the road.
For long-distance moves, the American Humane Association suggests that you map out pet-friendly hotels along your route and reserve rooms ahead of time. (For a list of pet-friendly hotels, see Petswelcome.com or Pet Friendly Hotels.)
When you arrive at your new home, it will be tempting to set your dog or cat loose in the house to explore. However, the ASPCA warns that an unfamiliar space can overwhelm your pets. Start by allowing them to adjust to one room, which should include their favorite toys, treats, water, and food bowls — and a litter box for cats. When pets seem comfortable, gradually introduce them to other rooms in the house.
For more tips, visit the website of the Humane Society of the United States.
(Photo: Flickr/Sally)