Here's a look at recent news of interest to homebuyers, home sellers, and the home-curious:
HALF OF ALL CALIFORNIA HOMES SELL ABOVE ORIGINAL PRICE
Buyers in the Golden State have almost as good of a chance of paying more than list price for a home than not, according to the California Association of Realtors' 2013 Annual Housing Market Survey.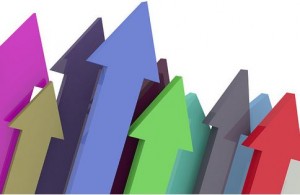 CAR data shows that 49.5 percent of all homes sold in the state in 2013 went for above their initial list prices, almost twice last year's number and three times greater than in 2011. More than 70 percent of homes sold this year in California have involved bidding wars, up from 57 percent in 2012.
The 2013 survey also showed an uptick of foreign buyers zeroing in on California. Overseas residents represented 8 percent of all buyers this year, up 2.2 percent from 2012. Investment buyers in the state were also busier this year than last: Activity rose to 19 percent from 16 percent.
And for the third time in four years, the percentage of first-time buyers dropped, representing only 28 percent of total sales. The number of first-time buyers declined 8 percent from 2012 and is currently 10 percent below its long-term average.
---
SAN FRANCISCO YEAR-OVER-YEAR PRICE GAINS HIGHEST IN 12 YEARS
Although Las Vegas still leads the U.S. in terms of year-over-year home price gains, yearly price-increase percentages in San Francisco hit their highest levels in August since the spring of 2001.
According to the most recent S&P/Case-Shiller index, San Francisco prices increased 0.9 percent from July to August and 25.4 percent from August 2012. Besides Las Vegas and San Francisco, the only other markets of the 20 included in the study to post yearly gains of more than 20 percent were both in California: Los Angeles (21.7 percent) and San Diego (21.5 percent).
"Thirteen cities posted double-digit annual gains. Las Vegas and California continue to impress with year-over-year increases of over 20 percent," said David M. Blitzer, chairman of the Index Committee at S&P Dow Jones Indices.
The 20 metropolitan areas included in the index showed a year-over-year composite gain of 12.8 percent, the largest spike since February 2006.
---
U.S. PENDING HOME SALES CONTINUE DECLINE IN SEPTEMBER
Last week, we reported that September pending home sales were down in California, a 1.8 percent slip from August. Now, data from the National Association of Realtors shows that pending home sales in the country saw an even greater drop in that time period.
According to NAR, the Pending Home Sales Index fell to 101.6 in September, a month-over-month decrease of 5.6 percent. This is the fourth straight month that the index has declined, and it is now at its lowest level in nearly a year.
NAR Chief Economist Lawrence Yun cited decreasing affordability as the main cause for the slowdown, but added that the government shutdown, which lasted from Oct. 1 to Oct. 17, likely played a role.
"In addition, government and contract workers were on the sidelines with growing insecurity over lawmakers' inability to agree on a budget," Yun said.
---
FEDERAL RESERVE TO CONTINUE BUYING MORTGAGE-BACKED SECURITIES
In news that could help keep slowly rising interest rates relatively low, the Federal Reserve announced last week that it would continue to purchase mortgage-backed securities.
The Federal Reserve said in a statement that it would continue to buy $40 billion of mortgage-backed securities per month, with the goal of maintaining low interest rates and promoting the overall economic and housing-market recovery.
Two other concerns that the agency noted that likely played into its decision are an "unemployment rate [that] remains elevated" and the fact that "the recovery in the housing sector slowed somewhat in recent months."
(Image: Flickr/FutUndBeidl)