Here's a look at recent news of interest to homebuyers, home sellers, and the home-curious:
LISTING A HOME IN WINTER BEST FOR SELLERS ACROSS THE COUNTRY
Many owners believe that selling a home in winter can be an exercise in futility, but a recent Redfin study paints an entirely different picture.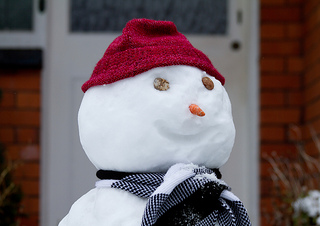 Data collected by the firm, which analyzed sales in 19 U.S. markets, shows that owners are 9 percent more likely to sell their home in the winter months than in any other season. Although one might think that bitterly cold temperatures in some parts of the country would help deter buyers, the trend persisted from the frigid Northeast to sunny Southern California.
Homeowners in the San Jose area had the highest likelihood in the country of selling a home in winter, at 80 percent – 11 percent higher than in the spring and summer. In San Francisco, sellers had a 69 percent chance of offloading a home in the winter, 10 percent greater than in spring and summer.
---
MOVE-UP BUYERS PREDICTED TO GET BUSY IN 2014
Citing a combination of factors, real estate search operator Trulia predicts that move-up buyers will become more active in 2014 than they were this year.
According to Trulia, a key factor expected to drive this trend is rising prices, particularly in already-expensive regions like San Francisco. The firm notes that higher prices not only discourage investors but also lock out first-time buyers who may be struggling to drum up the down payment.
And repeat buyers are more likely to go for a new property with a heftier price tag when their current home's value has risen. Also, homeowners who have regained equity in their properties tend to have less of a problem dealing with the aforementioned down-payment issue.
---
ANOTHER LUXURY-APARTMENT HIGH-RISE PLANNED FOR SAN FRANCISCO
In news that could help ease the housing inventory problem in San Francisco – albeit not for a few years – real estate investment firm UDR and insurance giant MetLife have formed a joint venture to build a luxury apartment tower in the city's South of Market area.
The 447-unit, 42-story high rise will be located at 399 Fremont St., in the city's Rincon Hill neighborhood, with completion slated for 2016. The project will likely cost the joint-venture company around $317 million to build.
UDR and MetLife say the average size of units in the building will be 820 square feet. Planned luxury amenities include an observation deck, swimming pool, and fitness center. Individual apartments will also boast perks, such as hardwood floors, stainless-steel appliances, and air conditioning.
---
MORTGAGE APPLICATIONS DROP SUBSTANTIALLY IN NOVEMBER
Although November mortgage-application rates took a dive from the previous month, loan sizes saw the tiniest of increases.
Mortgage applications declined 18 percent from October to November, according to the Mortgage Bankers Association (MBA). In an earlier news release, the MBA said applications for mortgages climbed 11 percent from September to October.
Meanwhile, the average price of a loan across the country inched up 0.4 percent from October to November, moving from $294,480 to $295,523.
(Image: Flickr/Tristan Martin)