Marble baths are big right now. So are rooftop decks and oversized windows. But demand for barbecue grills, once a hot commodity, has cooled considerably since last year. And hardwood floors and plantation shutters? Meh.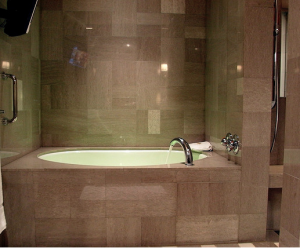 The shifting sands of consumer tastes are revealed in the latest "lab report" from the real estate classified ads website Trulia, which examined the last two years of luxury-home listings to see what amenities are trending up and down.
Some of the changes are dramatic.
Marble baths, for example, appear in luxury listings 78 percent more often than they did a year earlier. Mentions of marble floors are up 30 percent.
Rooftop decks and terraces are 63 and 42 percent more common, respectively, than they were last year. Oversized windows have seen a 56 percent surge. Similarly, floor-to-ceiling windows are up 39 percent and ceiling windows are up 37 percent.
Rounding out the list of top-10 gainers this year are storage space (42 percent), wine rooms (30 percent), and gyms (28 percent).
Amenities on the downside this year don't show such dramatic changes, but many of them are kitchen- or food-related.
Barbecue grills are mentioned 16 percent less frequently this year than last, and custom cabinets are 9 percent less popular. Double sinks are down 8 percent, and stainless appliances are off 7 percent, followed by center islands in the kitchen (6 percent) and granite counters (5 percent).
Elsewhere in the home, hardwood floors and plantation shutters both saw 13 percent declines, and covered patios are down 11 percent. Meanwhile, lush landscaping and fireplaces are both down 9 percent, while listings with swimming pools sank by 7 percent.
(Photo: Flickr/Andy)