Here's a look at recent news of interest to homebuyers, home sellers, and the home-curious:
SAN JOSE, SAN FRANCISCO HOME PRICES TOP U.S. IN OCTOBER
The San Jose and San Francisco metropolitan areas had the two highest median home sales prices in the country in October, according to recent research from Redfin.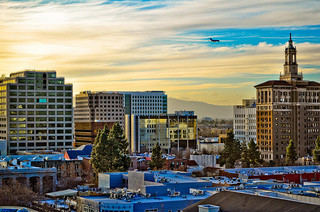 The median sales price for a home in San Jose was $670,000, followed by San Francisco at $618,000. The study, which tracks prices across 19 U.S. metropolitan areas, pegged the October national median sales price at $327,302. San Jose and San Francisco were the only two regions on the list to post home prices above $500,000.
Home prices in San Jose increased 17.5 percent year over year, while prices in San Francisco grew 12.6 percent. Across the country, home prices gained 15.3 percent from last October.
The study also found that sales volume in San Francisco grew 9.1 percent, well above the national average year-over-year increase of 0.6 percent. Inventory, which has declined 10.4 percent in the U.S. since October 2012, shrunk by only 1.4 percent in San Francisco. In San Jose, inventory actually increased year over year by 1.9 percent.
---
BAY AREA SALES VOLUME SLOWS, PRICE CUTS INCREASE
Though home prices in the nine-county Bay Area continue to tick upward, a recent SFGate article explains that sales volumes in the region dropped year over year in October.
Citing figures obtained from DataQuick, SFGate states that 7,595 homes and condos sold in the Bay Area last month, a decrease of 3.9 percent from October 2012. At the same time, the median home price showed its 19th straight month of year-over-year gains and is currently $539,750 — a jump of almost 30 percent since last October.
According to the article, local buyers may be getting some relief from price reductions. Price cuts accounted for 20 percent or more of transactions in eight local counties in September. San Francisco had the lowest rate of homes with price chops in the region, at 13 percent.
---
U.S. HOMEOWNERSHIP RATE DECLINED OVER PAST THREE YEARS
The percentage of homeowners in the U.S. shrank between the years 2010 to 2012 compared with the period between 2007 and 2009, according to the U.S. Census Bureau's latest American Community Survey.
The U.S. homeownership rate dropped 1.72 percent in that time frame, falling to 64.68 percent between 2010 and 2012. During those years, the homeownership rate fell by 2.18 percent in California to 54.91 percent.
When examining the 50 largest U.S. metropolitan areas, the survey found that homeownership rates declined to 53.68 percent in San Francisco and 57.06 percent in San Jose, losses of 2.49 and 2.47 percent, respectively.
Between 2010 and 2012, median property values across the country declined by 9 percent to $174,900. Home values fell by 22 percent in California, 13 percent in San Francisco, and 11 percent in San Jose.
---
GOVERNMENT SHUTDOWN PROMPTS ALL-TIME HOUSING-MARKET CONFIDENCE LOW 
Last month's U.S. government shutdown had the expected negative impact on consumer confidence in both the housing market and the economy, according to Fannie Mae's October 2013 National Housing Survey.
The survey, which was conducted while the government closure was in effect, found that just 65 percent of respondents considered it a good time to purchase a house, the lowest in the survey's three-year history. Despite the dip, homebuyers and sellers should still expect longer-term price appreciation, according to Doug Duncan, Fannie Mae senior vice president and chief economist.
"While this decline in consumer optimism may portend a slowing of the housing recovery, supply constraint data suggest that we are likely to see continued positive growth in home prices," Duncan said in a statement accompanying the survey results.
The shutdown also clearly rattled consumer confidence in the national economy. In October, the number of respondents who felt the economy was on the right track dropped to 27 percent, a 12 percent month-over-month slide and the largest monthly decline in the survey's history.
(Photo: Flickr/Darshan Karia)