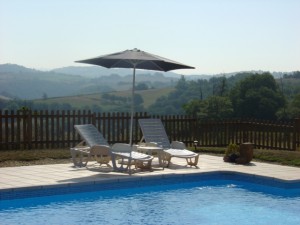 Though some Bay Area locals grumble about San Francisco's notoriously cool, foggy summers, residents of inland counties often see the mercury climb well into the 90s during those same months.
Potential buyers in some of the region's warmer locales may find themselves viewing homes with in-ground swimming pools, which can offer a welcome respite from scorching July and August heat. However, before diving into a home with this classic backyard amenity, would-be homeowners should weigh the pluses and minuses.
ENTERTAINMENT VERSUS LIABILITY
Besides being an instant escape from the heat and a great source of aerobic exercise, a pool offers homeowners the perfect way to create their own fun and bond with neighbors by throwing summertime parties and barbecues.
But hosts who invite enough guests, especially couples with small children, will inevitably get a few who can't swim well — if at all. For this reason, insurance companies consider a pool a liability and charge higher premiums to cover the home.
That said, owning a pool will not send insurance premiums through the roof. Adrianne Peixotto, director of Pacific Union partner company ProInsurance, estimated that swimming pool owners pay only about an average of $100 extra in premiums per year. Peixotto also noted that insurance companies require the yard or pool to be fenced and that pools with diving boards be at least eight feet deep.
VALUE APPRECIATION VERSUS ONGOING COSTS
A pool can add aesthetic appeal to a large backyard, particularly one that is well-kept and nicely landscaped. And homes with swimming pools may also command higher prices when the time comes to sell. According to a National Association of Realtors statistic, a swimming pool can appreciate a home's value by an average of nearly 8 percent. That could equal a significant sum in Bay Area counties such as Marin, where median home prices recently hit $990,000.
While a pool may add long-term value to a home, maintenance costs will partially offset that premium. Such expenses include purchasing the proper water chemicals, paying for electricity to power the pump, and regularly changing filters and light bulbs. A 2010 The Wall Street Journal article estimates that yearly ongoing pool maintenance costs could range anywhere from $3,000 to $5,000. And if a pool needs a professional fix, bills can add up fast. The Pool Doctor, an El Sobrante, Calif.-based maintenance and repair firm, charges $129 for an initial estimate and $129 for each additional hour of labor.
USAGE VERSUS UPKEEP
When evaluating a pool's importance, potential homebuyers should consider what portion of the year they will actually take regular dips. In parts of Contra Costa County and the East Bay, daytime highs average in the mid-to-upper 80s from June to September. But in San Francisco summer temperatures barely average 70. Homeowners with children will also probably use a swimming pool more often that those without them.
Remember that pools require constant attention. HomeAdvisor suggests that swimming-pool owners perform some upkeep chores on a daily basis, including checking the filter pressure, removing trash in the strainer, and testing the water's chemical balance. Owners who are too busy to maintain their pool can hire a professional firm to handle weekly tasks, though doing so will obviously add to costs. Pleasant Hill, Calif.-based Clarity Pool Service quotes monthly prices of anywhere from $65 to $145, depending on the services needed.
(Photo courtesy of Jeannine Cousin, via Flickr.)