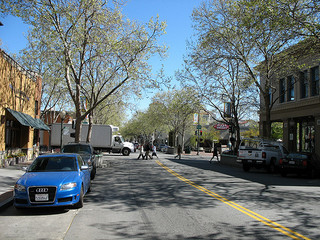 David Barca, vice President of Pacific Union's Silicon Valley region, wrote the following article, which originally appeared in the Palo Alto Weekly on Dec. 24.
When winter approaches, we typically expect Bay Area and Peninsula home prices to start cooling along with the weather, as buyers replace their house-hunting expeditions with holiday-shopping trips. But in Palo Alto, homebuyers aren't going anywhere, and real estate prices are nearly as hot as they were this past spring.
Consider these statistics, compiled from MLSListings on Dec. 5: Across the seven Silicon Valley markets in which Pacific Union sells homes, the median November sales price was nearly $2.1 million, a year-over-year spike of 17 percent. In Palo Alto the median sales price for a home was $2.2 million in November, up 23 percent from a year ago.
So while yearly price appreciation has remained robust across the entire region, Palo Alto has been a particularly strong area of growth.
Palo Alto didn't just become one of Silicon Valley's hottest markets overnight. Prospective buyers in the city who stalled or couldn't find a home during the summer, when the 2013 median sales price bottomed out around $1.84 million, may be kicking themselves now that prices are more than $2 million.
However, if hesitant homebuyers wait another year, they may have even larger regrets. About 65 percent of Palo Alto neighborhoods now boast median home prices higher than Pacific Union's Silicon Valley average, and in some choice pockets, they're climbing even higher.
Downtown Palo Alto, Professorville, Old Palo Alto, Green Gables, and Crescent Park were the five most expensive neighborhoods in the city as of November, with median prices ranging from $2.66 million to $4.35 million. Perhaps not coincidentally, four of those five neighborhoods posted year-over-year price gains of more than 30 percent.
Rising Interest Rates, Continued Price Appreciation Equal Larger Mortgage Payments
While no one can guarantee that Palo Alto's robust home-price appreciation will continue unabated, it's tough to dismiss the possibility — particularly given that October unemployment rates in the Bay Area were among the lowest in California. Though it's unlikely that Palo Alto homes will see the 20-plus percent price gains they saw this year in 2014, it's safe to assume that prices could rise by another 10 percent by the end of next year.
A compounding issue for hopeful Palo Alto and Bay Area buyers putting off a purchase is the prospect of rising interest rates throughout 2014. I recently saw figures from the California Association of Realtors, or CAR, estimating that interest rates for a 30-year, fixed-rate mortgage could reach 5.3 percent in 2014.
While we know that most Palo Alto buyers will provide a substantial down payment, or even offer all cash for the purchase, let's assume for the sake of illustration we have a standard 20-percent down-payment scenario and conventional 30-year, fixed-rate financing.
Using the current median sales price of $2.2 million, today's Palo Alto homebuyer will require a 30-year mortgage of $1.76 million. Given the mortgage rate at the end of November (4.4 percent), we can roughly calculate that the current average Palo Alto buyer might end up on the hook for about $8,800 in monthly payments.
Think that sounds like a hefty check to cut each month? Consider the cost of waiting another 12 months.
If home prices in Palo Alto do actually increase by 10 percent over the next 12 months, the median sales price in Palo Alto would be $2.42 million by November 2014. Using the 20-percent-down scenario, we can calculate that the necessary mortgage amount would be almost $1.94 million by next November. And if mortgage rates end up reaching CAR's predicted 5.3 percent, the monthly payments would then add up to $10,750.
Put another way: Palo Alto buyers who sit on the bench for another year could end up paying an extra $23,400 per year in mortgage payments, no paltry sum for most of us.
Tight Inventory Another Obstacle for Buyers
Slim inventory levels in Palo Alto are exasperating buyers' situations even further. In November the months' supply of inventory, or MSI, across the city dropped to a microscopic 0.2, the lowest level in the past two years.
In layman's terms, that means that there were only enough Palo Alto homes in November to satisfy market demand for about six days. In a real estate market balanced between buyers and sellers, the MSI should be more like five months.
Lending credence to the fact that buyers in the city have seen the writing on the wall all year is the fact that homes in Palo Alto simply don't last on the market very long. In November buyers snapped up houses in an average of 16 days, very similar to numbers recorded since February. For context, homes in Pacific Union's entire Silicon Valley region were on the market for an average of 34 days in November – more than twice as long as in Palo Alto.
While buying a home in the current Bay Area and Silicon Valley markets might seem like a daunting investment, I'd encourage hopeful buyers to continue shopping for the perfect place sooner rather than later. The money you save over the next 12 months by acting soon could help fund a good portion of your child's education, a well-deserved vacation, or any number of other worthwhile expenses.
Happy new year and happy house hunting.
(Image: Flickr/Nutella28)