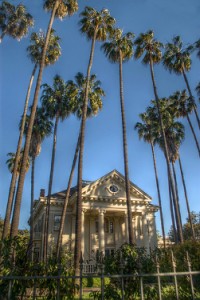 With handsome homes situated on large lots but still just a short stroll from happening downtown Palo Alto, quiet Crescent Park is one of the northern Santa Clara County city's most coveted neighborhoods.
Separated from neighboring Menlo Park (and San Mateo County) to the north by Grant San Francisquito Creek, Crescent Park is bordered by Newell Road to the east, Channing Avenue to the south, and busy Middlefield Road to the west. University Avenue, which cuts through portions of the neighborhood, takes residents east to U.S. Route 101 in a matter of minutes.
Following University about a mile to the west leads directly into the heart of downtown Palo Alto, which boasts the one of the city's most concentrated strips of restaurants and shops. Adjacent to downtown is the Palo Alto Caltrain station, where the weekday Baby Bullet train transports commuters to San Francisco in less than 40 minutes.
Although it is situated between freeways and train tracks, Crescent Park is far enough removed from either to feel overly hectic.
"Its flat living quarters, orderly sidewalks, and heavy foliage all exude a sense of calmness and tranquility that usually eludes most Palo Alto communities," wrote user bayareabound on Pacific Union's Crescent Park neighborhood reviews page.
Near the neighborhood's southern border sits Eleanor Pardee Park, popular with families thanks to its pair of playgrounds. The park is also home to the Palo Alto Demonstration Gardens, which features a fruit and vegetable garden, as well as one that highlights native Bay Area flora.
Families are also drawn to the neighborhood because of its excellent public schools. Duveneck Elementary School and Jordan Middle School earned scores of 974 and 947, respectively, on a scale of 1,000 on the state's 2012 Academic Performance Index.
Many homes in the neighborhood were built before World War II and include Craftsman and Spanish Revival-style houses, as well as bungalows. Of particular note is the palm-tree-encircled, 6,300-square-foot Squire House located at 900 University Ave., one of the few examples of Neo-Classical Revival architecture in California.
According to September MLS data, the median sales price for a single-family home in Crescent Park was $3,350,000, the highest in Palo Alto and tied for No. 6 on the list of the most expensive neighborhoods in Pacific Union's Silicon Valley region.
The median sales price in the neighborhood has grown steadily over the past 12 months and is now at its yearly peak — 26 percent higher than it was in September 2012. Crescent Park home prices showed their highest quarterly median price levels in the third quarter of 2013 — $3,200,000 – since the fourth quarter of 2011.
As inventory figures suggest, high buyer demand in Crescent Park could be driving the continued price appreciation. The months' supply of inventory (MSI) was 1.0 in September, the highest it ever got in the third quarter. Inventory remains constrained in Palo Alto overall, where the MSI ranged between 0.7 and 1.2 in the third quarter.
(Photo: Flickr/Wayne Hsieh)