Famed for its hot springs and spas and surrounded by the rolling vineyards that put Napa County on the map, the city of Calistoga is an ideal destination for visitors who need to check out of the rat race for a minute. But longtime residents cite the city's small-town feel and friendly atmosphere as the main pluses that compel people to come back and stay.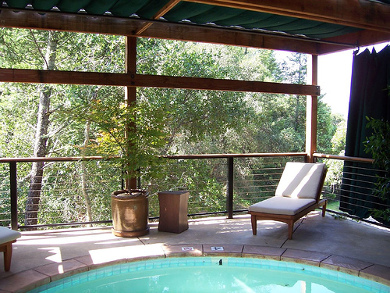 "It's the kind of place where you know your neighbors," said one of Pacific Union's top real estate professionals in the region. "You walk down the street and you say hi to half of the people."
Located 27 miles north of the city of Napa on state Route 29, Calistoga is the northernmost incorporated city in the county. It is also one of the smallest, with a population of just 5,200.
Originally founded in the 1860s as a hot-springs resort meant to rival Saratoga, N.Y., Calistoga has held on to its relaxation-friendly roots. Today, the city is home to more than 15 spas and resorts, where visitors can unwind in mineral pools and mud baths, take in a massage, or enjoy the area's temperate climate by simply hanging out on the grounds.
Solage Calistoga, one of the city's newer resorts, features Solbar, the only Michelin-rated restaurant in the city and one of just eight in the Napa Valley region. Solbar serves breakfast, lunch, dinner, and brunch–depending on the day of the week–and bills its cuisine as "California soul food." Chef Brandon Sharp's resume includes stints at two renown Bay Area restaurants: The French Laundry and Gary Danko.
Then there's the other relaxant that Calistoga and Napa Valley are famous for: wine. Calistoga residents enjoy easy access to more than 30 local wineries that produce a wide variety of both red and white wines. Tasting fees range from $5 to $45 dollars, but most hover in the $10-to-$20 range.
With a quaint and compact downtown area centered on the corner of Lincoln Avenue and Washington Street, Calistoga is easy to explore on foot. You can buy almost anything you need in downtown Calistoga, and nearly 10 restaurants and bars line a short, two-block stretch of Lincoln.
Calistoga homes are built in a variety of architectural styles, including ranch, Mediterranean, farmhouse, and Cape Cod. In July 2013, the median sales price for a single-family home in the city was $612,000, a year-over-year decrease of 34 percent but still 17.5 percent above current prices in Napa County as a whole. Unlike many other cities in the Bay Area, where inventory constraints favor sellers, Calistoga is a more-balanced market, with a 5.3-month supply of inventory as of July.
(Photo: Flickr/Neeta Lind)