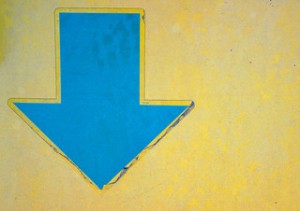 While the Bay Area real estate market continues its upward trend, positive changes are also occurring in our jobs markets.
That's great news to hear, because strong employment figures (and solid Bay Area incomes) contribute to our improving economy — which is foundational to our strong real estate sector.
All nine Bay Area counties again outperformed the state in unemployment rates, according to data released last week by the California Employment Development Department (EDD). The Bay Area's unemployment rate averaged 6.4 percent, 2.5 percentage points lower than the state average and 0.9 percentage points lower than the national average.
In August, the unemployment rate in California climbed to 8.9 percent. This marks the second straight month that state unemployment claims have risen after hitting a 2013 low of 8.5 percent in June. In the nine-county Bay Area, meanwhile, unemployment decreased 0.4 percent from July, when it was 6.8 percent.
Four Bay Area counties below 6 percent
Marin County posted California's lowest unemployment numbers of 5.0 percent, followed by San Mateo County (5.3 percent), San Francisco County (5.6 percent), and Napa County (5.8 percent). Those four counties were the only ones in California to boast unemployment rates of less than 6.0 percent.
Here's a look at how all our Bay Area counties fared: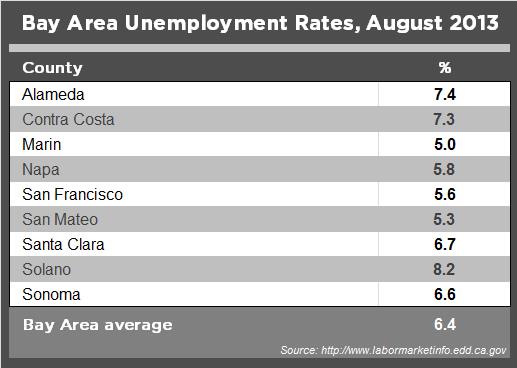 Continuing improvements
While the state's unemployment rate rose slightly month-over-month, it is still markedly improved from August 2012, when it was still in double digits, at 10.4 percent. The other good news: California continued to add jobs in August, gaining 29,100 positions — slightly more than the 27,800 added in July.
In a promising sign for the Bay Area's and state's slim supply of housing, the construction sector showed the most monthly and yearly job growth in August. The construction industry in California added 7,700 new jobs in August, up 1.3 percent from July and 5.0 percent from the previous year.
While California's unemployment rate has crept up over the past two months, joblessness continues to present less of a problem across the U.S. In August, the national unemployment rate fell to 7.3 percent, the lowest it has been since December of 2008, according to statistics collected by the U.S. Department of Labor. The national unemployment rate has dropped or held steady every month so far in 2013.
(Image: Flickr/judy_and_ed)