America's Cup went from "What?" to "Wow!" this week, as Oracle Team USA defeated Emirates Team New Zealand in one of the most improbable come-from-behind wins in sports – and arguably the greatest comeback in sailing history.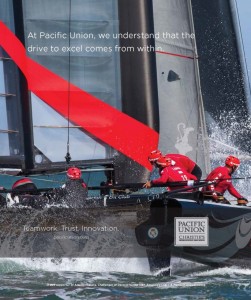 We at Pacific Union were thrilled to watch the Oracle crew complete an unbelievable eight-race sweep to claim the America's Cup title yesterday.
The drama had been building all week as Oracle slowly but steadily closed what seemed to be an insurmountable gap in the regatta. As they built steam, so did the viewing public. What was originally deemed a "yawn" event by many observers turned into an absolute nail-biter of a competition as Team Oracle rallied to erase – then overcome – a seven-point deficit.
Many onlookers (us included!) suspended work to watch the races in person, stream them on their computers, or even just frantically reload their Twitter feeds as the final seconds counted down. America's Cup fever seized not just San Francisco but the viewing public, and culminated in yesterday's incredible result. As one fan put it, "If it was scripted this way in a movie we would never have believed it!"
But believe it we do, in part because our Pacific Union team enjoyed a bit of a front-row seat to this America's Cup competition. A year ago, we committed to a partnership and supporting role with of one of the race's contenders – the Challenger of Record, Artemis Racing.
We aligned with Team Artemis because their drive for excellence mirrored Pacific Union's allegiance to the principles of elite performance: an unwavering focus on teamwork, managing to the top, and remembering that results – not empty boasts – truly count.
Although Team Artemis fell short to Italy's Luna Rossa in the run-up to the finals, we were thrilled to get behind-the-scenes looks at the incredible commitment required to put one of these cutting-edge boats on the water and to build a world-class crew to skipper her.
While Team Artemis wasn't able to compete for the crown, they left it all out there on the race course – and then some. They rallied after experiencing a tragic training accident that claimed the life of one of their crew members and fought back to remain in contention, putting superhuman effort into preparing a new boat, overcoming their grief, and once more coming together as a team with a united goal.
On a more modest scale, we at Pacific Union work every day to overcome adversity and foster our own positive team dynamics, put forth our own best efforts, and never rest on our laurels. We feel that in some small way we share this mindset with the heroic, best-of-class sailors who took the world for an unbelievable ride in the past weeks.
So thank you, Team Artemis, for letting us peek behind the curtain to see there really is a wizard back there. Thank you, Oracle Team USA, for showing us that overcoming adversity isn't impossible – it just takes belief, determination, and a never-say-die attitude. And thank you, Emirates Team New Zealand, for demonstrating that elite performance and results are possible only when the competition is similarly top-notch.