In what can only be bright news for our already-prosperous real estate markets, Bay Area unemployment claims in October were far below the state and national averages.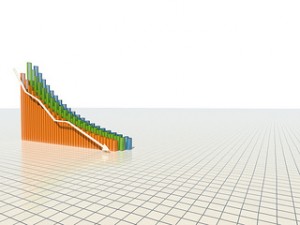 California's unemployment rate, meanwhile, held steady from September to October, while the national rate saw a slight uptick.
According to data released by the California Employment Development Department (EDD), the state's unemployment rate fell to 8.7 percent in September and stayed there in October, down from 8.9 percent in August. Unemployment in California is now down 1.4 percent from October 2012, when the statewide rate was 10.1 percent.
Across the country, joblessness claims rose 0.1 percent from September to October, for a national average of 7.3 percent.
Although California's unemployment rate is still higher than in the U.S. overall, numbers across the nine-county Bay Area bested the national average, falling to 6.1 percent in October. County unemployment rates were unavailable for September; in August, unemployment in the Bay Area averaged 6.4 percent.
As in August, Marin County had the stats's lowest unemployment rate in October, at 4.8 percent. San Mateo County was No 2. in California (5.1 percent) followed by Napa County and San Francisco (both 5.3 percent.)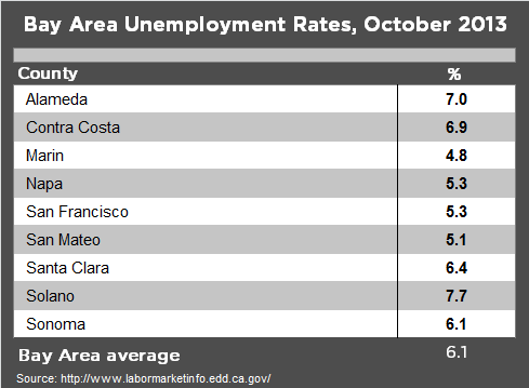 All nine Bay Area counties saw unemployment rates decline from August to October. Napa, Solano, and Sonoma counties saw the biggest drops in jobless claims in that time period, all with decreases of 0.5 percent.
After losing roughly 3,000 jobs in September, California added 39,800 nonfarm positions in October, a year-over-year increase of 1.4 percent.
While regional and state unemployment levels clearly bode well for the Bay Area's thriving real estate market, slim housing inventory may also get a boost from hiring numbers in the construction sector.
In October, the construction industry added 1,400 jobs, for a total of 625,400 workers in the sector. The construction industry has seen 4.3 percent job growth since last October. Of the 11 nonagricultural sectors included in the EDD's report, only the leisure and hospitality sector showed greater year-over-year growth, at 4.6 percent.
(Image: Flickr/RDCushing)