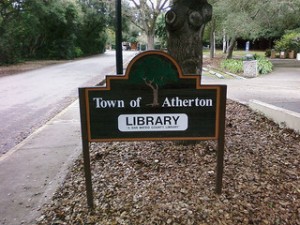 When many Bay Area homebuyers think of the San Mateo County town of Atherton — recently named by Forbes magazine as the most expensive ZIP code in the U.S. — they likely think of sprawling, gated estates situated on expansive lots.
And while plenty of homes in the 94027 ZIP code fit that description, the town's small Lloyden Park neighborhood offers a more unassuming community atmosphere, leading many Silicon Valley locals to label it Atherton's best-kept secret.
Roughly speaking, Lloyden Park is bordered by El Camino Real to the west, Wilburn Avenue to the north, the Caltrain right of way to the east, and Fair Oaks Lane to the south. The neighborhood lies between U.S. Route 101 and Interstate 280, which are about two miles to the east and four miles to the west respectively. Atherton's only Caltrain station is located near the center of Lloyden Park, a convenient perk for local residents who commute to San Francisco or other parts of Silicon Valley on weekdays.
The neighborhood is a leafy subdivision of 86 houses, two of which were actually constructed as "homes of the future" for the 1939 Golden Gate International Exposition held on San Francisco's Treasure Island. In addition, Lloyden Park contains a carriage-style home designed by pre-eminent Bay Area architect Willis Polk.
Unlike other enclaves in Atherton, Lloyden Park has underground utilities, street lights, and sidewalks. The latter encourages socializing among residents as well as community gatherings.
According to David Barca, vice president of Pacific Union's Silicon Valley region and longtime Lloyden Park resident, neighbors are friendly and collegial. Barca says the neighborhood has a long history of community-oriented events, including Christmas-carol outings and July 4th block parties.
Most homes in Lloyden Park are within walking distance to the town's library, town hall, and post office, all of which are located just a block from the Caltrain station. Nearby Holbrook-Palmer Park offers a recreation venue for both kids and adults, with a playground, tennis courts, and walking gardens.
The neighborhood is served by the Redwood City School District, though many parents opt for nearby private schools, including Sacred Heart School, the Phillips Brooks School, and Menlo School.
Lloyden Park homes are built on smaller lots relative to others in Atherton; most parcels are one-third of an acre, though some are one-quarter and three-quarters of an acre. The majority of homes in the neighborhood were built in the mid-20th century and were designed in a variety of architectural styles, including Cape Cod, colonial, ranch, and traditional.
Throughout 2013, the median home sales price in Lloyden Park's MLS area has ranged from $1.3 million to $3.5 million. Because of the neighborhood's small size, it is rare for more than three Lloyden Park homes to be on the market in any given month, and turnover is extremely low.
(Photo: Flickr/Ecologicalibr)