With quick access to public transportation and freeways and a walkable strip of highly regarded restaurants, centrally located Temescal will appeal to Oakland homebuyers seeking a more affordable alternative to neighboring Rockridge.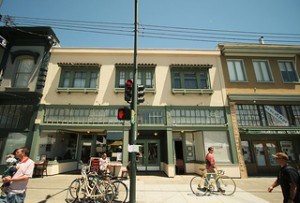 Roughly speaking, Temescal is bordered by 51st Street to the north, 40th Street to the south, Broadway to the east, and state Route 24 to the west. The latter freeway feeds directly into Interstate 580, making it possible to drive to San Francisco in less than 20 minutes.
Commuters who prefer public transportation will appreciate the neighborhood's access to two BART stations. Residents who live in the southern part of Temescal are within walking distance of the MacArthur station, while those in the neighborhood's northern portion can opt to use the Rockridge station.
Most of the neighborhood's businesses and eateries are located on Telegraph Avenue, Temescal's principal thoroughfare and a strip that's easy to explore on foot or bicycle. Walk Score — an online service that ranks neighborhoods based on amenities within a quarter-mile distance — gives Temescal a Walk Score of 87 and a Bike Score of 86 on a scale of 100.
"I think in no time at all this area will (hopefully) be the new Rockridge," wrote user JaJo on Pacific Union's Temescal neighborhood reviews page. "The stretch of Telegraph from 52nd Street to 43rd is terrific."
Temescal's restaurant and nightlife scene has exploded in the past decade and now rivals Berkeley's famed Gourmet Ghetto. Locals line up around the block for Bakesale Betty's fried-chicken sandwich, a delicacy that landed on Food & Wine's list of best sandwiches in the U.S. Aunt Mary's Cafe, which serves an array of Southern-style dishes, is a popular brunch option. Other well-regarded restaurants in the neighborhood include Dona Tomas, which offers high-end Mexican food, and Pizzaiolo, a wood-fired-pizza place founded by a former Chez Panisse employee.
There is no shortage of activities in Temescal, thanks to a variety of events throughout the year. The neighborhood hosts an annual street fair in July, as well as September's Taste of Temescal festival, where attendees can sample a smorgasbord of food from local restaurants. Temescal also participates in Oakland's increasingly popular First Fridays initiative, when many art galleries are open to the public.
Mosswood Park, just a few blocks south of the neighborhood's boundaries, is home to basketball and tennis courts, a baseball field, an outdoor amphitheater, and a dogs-off-leash area. Residents seeking relief on hot summer days will appreciate the Temescal Pool, a low-cost outdoor facility that offers swimming lessons for both children and adults.
The median sales price for homes in the 94609 ZIP code, which encompasses Temescal, was $644,000 in August — a year-over-year increase of 17 percent. Homes in the neighborhood are considerably more affordable than those in the 94618 ZIP code, which includes Rockridge, where the median August sales price was $875,000.
While Temescal has a slim 1.4-month supply of inventory (MSI), there are slightly more homes on the market than there are in our Oakland region as a whole, where the MSI was 1.2 in August. On average, buyers shelled out 16.5 percent more than list price for Temescal homes in that month, as opposed to 9 percent above list in Oakland overall.
(Photo: Flickr/Cory Young)