Pacific Union is excited to share the news that our team finished No. 1 in the annual Susan G. Komen Race for the Cure, held on the morning of Sunday, September 29 along San Francisco's waterfront. This marks the second consecutive year that team Pacific Union has posted the fastest overall time, finishing nearly 40 seconds ahead of the next-closest team.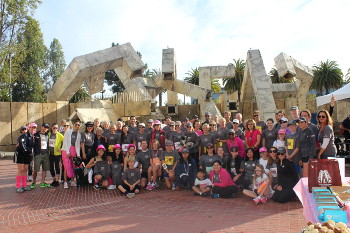 This year, 217 of Pacific Union's real estate professionals and their families came out to help end breast cancer, making it the second straight year we've fielded the largest team. All told, our team members raised more than $18,000 for the Susan G. Komen organization, which has been funding research to fight the disease since 1982.
Our 2013 fundraising totals and team-member count were up nearly 30 percent from last year's numbers.
Team Pacific Union finished the 3.1-mile race with a cumulative time of 1:41:19. All of our team's top five runners crossed the finish line in less than 22 minutes, and three of them placed within the top 15 overall.
San Francisco's Ky Faubion led the Pacific Union team, finishing seventh overall with a race time of 18:52. Hot on his heels was Blake Pearson, also of San Francisco, who crossed the finish line in 19:26 to place 10th. Scott Kalmbach, of Mill Valley Calif., claimed the 15th overall spot, with a final race time of 20:55.
Although we're certainly pleased with team Pacific Union's elite race performance, we take the most pride in the fact that we're doing our own small part to help wipe out a disease that currently affects one in eight women and one in 25 men.
"I am so proud of our Pacific Union family and all those that participated in Komen's Race for the Cure," says Patrick Barber, president of our San Francisco region and race-team captain. "To date, Komen has funded nearly $2 billion in research grants and has no endowment.
"Their mission is to eradicate this disease and close their doors," continues Barber, "and we are all looking forward to that day."
For a closer look at our team and the racing action, watch this video we've compiled: