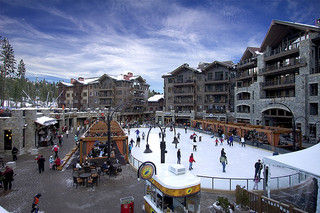 The recently concluded Olympics in Sochi, Russia served as a reminder to the rest of the world that our Tahoe/Truckee region produces some of the most elite winter-sports athletes on the planet. Fifteen competitors from the region participated in the games, including gold-medalist Jamie Anderson and Julia Mancuso, who claimed her record-setting fourth Olympic medal for an American female alpine skier.
While many of Northern California's top athletes routinely hit the powder at the Lake Tahoe community of Northstar, you don't need an Olympic-sized talent to enjoy all that the resort offers during the winter months. In fact, due to its abundance of year-round activities and stunning natural scenery, many residents find that it makes sense to put down permanent roots.
"Northstar is a growing and vibrant Truckee community centralized around Northstar California's four-season resort," one of Pacific Union's top real estate professionals in the region says. "While the Village is the hub of activity year-round, adventure and natural beauty await outside each homeowner's door."
Northstar enjoys a convenient location in Placer County off state Route 267, roughly equidistant between Truckee and the lakefront community of Kings Beach. The community also lies less than 10 miles southeast of Interstate 80, a perk that Bay Area buyers seeking a vacation home are sure to appreciate.
With nearly 100 trails and seven terrain parks located practically in residents' backyards, easy access to the slopes is perhaps Northstar's primary attraction for homebuyers. But activities at the resort don't taper off once the snow melts and spring begins to bloom.
During the summer, portions of the mountain remain open to bicyclists and hikers. Others will enjoy Northstar's golf course, tennis courts, or trout-stocked fly-fishing lake. And of course, the community's close proximity to Lake Tahoe opens up a whole new set of activities for families, including swimming, boating, and kayaking.
Although residents likely will need to make the short drive to Truckee to stock their refrigerators and purchase basic necessities, The Village at Northstar offers a healthy amount of dining and shopping options year-round, as well as a movie theater, spa, and free concert series.
According to our real estate professional, the majority of Northstar condominiums surround The Village and range in age from 40-plus years to those built less than six years ago. She notes that some of the newer condos appeal to buyers on the high end of the spectrum, pointing out that since September, six units at the Ritz-Carlton have sold for an average of more than $1,000 per square foot. One 3,400-square-foot penthouse at the Ritz Carlton commanded a sales price of more than $4.5 million.
That said, most Northstar condos won't cause that kind of sticker shock. The median sales price for a condo in January was $281,000, almost exactly the same as it was one year earlier, according to MLS data.
Single-family homes in the community, many of which are located in the older part of Northstar that borders Martis Valley, are much more expensive and harder to come by than condos. In January the median sales price for a single-family home was $1.1 million, and prices never dropped below $600,000 in 2013.
Buyers are willing to pay such high prices for single-family homes in Northstar because few current residents put their homes on the market. Data collected for Pacific Union's latest quarterly report shows that just nine homes sold in the fourth quarter of 2013.
"Sales are slim, and it's not uncommon for single-family homes in Northstar to have been in the family for generations," our real estate professional says.
(Image: Flickr/Ryan Jerz)