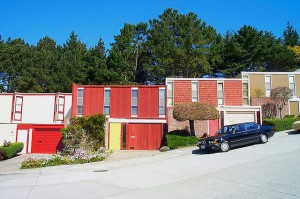 Perched in the hills above Noe Valley and Glen Canyon, San Francisco's Diamond Heights neighborhood offers a small-town feel with all the amenities of the city.
Sweeping views, a suburban-style shopping center, and easy commuting are among the perks Diamond Heights residents enjoy.
The neighborhood also boasts some fabulous mid-century and Eichler homes located along twisty streets surrounding the Diamond Heights Shopping Center, with its Safeway supermarket, Walgreens, and All Season Chinese Restaurant.
The iconic St. Nicholas Orthodox Church on Diamond Heights Boulevard makes for an interesting silhouette in the hilly neighborhood and operates a daycare and preschool.
Residents enjoy easy access to an array of shops and restaurants in nearby Noe Valley and Glen Park, as well as a variety of parks, including the gorgeous and expansive Glen Canyon Park.
Various Muni metro lines and the Glen Park BART station are just a bus ride away, and freeway access is a snap via O'Shaughnessy Boulevard.
Diamond Heights homes for sale are in demand: The number of single-family homes under contract increased 50 percent in April compared with a year earlier, according to MLS data. That same month, the average sale price rose 18 percent to $1.2 million, up from $1 million in April 2012.
The neighborhood also boasts an array of condominium and apartment complexes, including the Diamond Heights Village on Red Rock Way. In April the average condominium sale price shot up 53 percent to $480,800, from $313,750 a year earlier.
"Being situated between Noe Valley on one end and Glen Park on the other is a big plus," StreetAdvisor user Sfsully wrote. "The village square that is Glen Park's main commercial area beckons for those seeking a good book to read, a nice dinner, or just a stroll around some appealing storefronts and shop windows.
"The same goes for even-closer 24th Street in Noe Valley: a good plate of pasta, a cozy tavern, and more boutiques await those willing to make a short walk (or drive) down the hill," he added.
Read more StreetAdvisor reviews of Diamond Heights here.
(Photo of Diamond Heights homes by Allan Ferguson, via Flickr.)