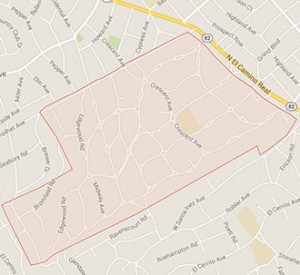 Affluent Mid-Peninsula homebuyers seeking to put down roots in a tranquil, elegant, and historic neighborhood will appreciate all that uniquely designed, high-end San Mateo Park has to offer.
Tucked in the far northwest corner of the city of San Mateo and surrounded by the neighboring communities of Burlingame and Hillsborough, San Mateo Park is located less than three miles from both Highway 101 and Interstate 280. Founded in 1896, the neighborhood was the brainchild of local architect George Howard Jr. and John McLaren, a horticulturalist best known as the designer of San Francisco's Golden Gate Park.
Rather than following a standard grid pattern, San Mateo Park streets were designed to weave and curve around nearly 70 landscaped traffic circles and medians. To beautify these islands and the neighborhood in general, the founders curated a wide variety of trees from around the globe.
True to Howard and McLaren's vision, San Mateo Park remains a leafy, exclusively residential enclave that still offers convenient access to urban amenities of all types. The neighborhood is located within walking distance of downtown Burlingame, where dozens of shops, restaurants, and salons line Burlingame Avenue and the surrounding streets. Less than two miles east, downtown San Mateo offers another dining and shopping scene.
Both business districts are served by Caltrain, which provides regular weekday and weekend service to San Francisco and Silicon Valley, a handy perk for those who prefer not to drive to work.
Homes in the lushly landscaped neighborhood span a wide range of architectural styles that includes Craftsman, Mediterranean, English Tudor, and Colonial, and several were designed by notable Bay Area architects Bernard Maybeck and Julia Morgan. Many homes sit on large lots and are shielded from the street by trees, enhancing residents' privacy.
San Mateo Park is perhaps the city's most desirable enclave, and homes here are thus more expensive than they are in other local neighborhoods. According to MLS data, the average median sales price for a single-family home in San Mateo Park was $2.15 million for the period spanning January through November 2014. In that same time period, the average median sales price for the entire city of San Mateo was $1.05 million.
Inventory constraints in the relatively small neighborhood are also helping to keep sales prices high. Throughout 2014, the months' supply of inventory for homes under contract in San Mateo Park has never risen above 2.0 and had sank to an ultralow 0.3 in November.