Both mortgage rates and home prices are projected to rise in the coming year, while continued economic growth should enable more millennials to enter the real estate market, a recent forecast predicts.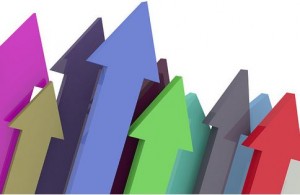 "The scenario we're facing now for 2015 is literally a question of when — not if — mortgage rates are going up," Realtor.com Chief Economist Jonathan Smoke said in the company's 2015 Housing Market Trends webinar. "And from the when perspective, I'm betting on the spring."
As of Dec. 4, 30-year, fixed-rate mortgages averaged 3.89 percent, according to Freddie Mac, an 18-month low. Smoke forecasts mortgage rates to hit 5 percent by the end of 2015, identical to Freddie Mac's prediction in its own 2015 U.S. Economic and Housing Market Outlook.
The projected hikes could end up costing indecisive homebuyers who delay a purchase a significant amount of money each month, especially if U.S. home prices increase at Realtor.com's expected rate.
"My most likely outcome, meaning that prices go up 4 percent and mortgage rates are at 5 percent, means that the monthly payment goes up 17 percent," Smoke said. He explained that mortgage rates vary geographically and that California homebuyers have paid lower-than-average rates over the past 13 years.
Realtor.com also foresees further growth for the U.S. economy in 2015, with the creation of 2.75 million jobs and an average 3 percent wage increase. The prosperity should help spur an uptick in first-time-homebuyer activity, Smoke projects, particularly millennials who have been shut out of the game.
"This (2014) is probably the last year that the baby boomers will have a higher share of buyers," he said.
Smoke said that new programs from Fannie Mae and Freddie Mac that allow buyers to qualify for a mortgage with a down payment of only 3 percent should further assist first-timers and millennials in purchasing a home. But that projection may not apply in expensive markets like the Bay Area.
"While first-time homebuyers have many economic factors working in their favor, increasing home prices will make it more difficult to get into high-priced markets such as San Francisco and San Jose," Realtor.com noted in its report.
In fact, a recent study by Trulia found that the San Francisco metro area was the least affordable in the U.S. for millennial buyers.
(Image: Flickr/FutUndBeidel)