The holiday season is fast upon us: Hanukkah starts on Tuesday, and Christmas is less than two weeks away. If you haven't started putting up holiday decorations, it's time to get with the program!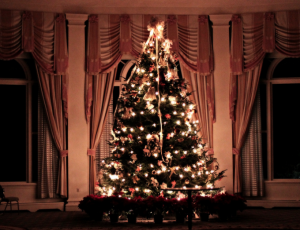 As you deck out your home, take a moment to step back and examine your decorating plans to ensure a happy and hazard-free holiday season.
CHRISTMAS TREES
Live Christmas trees are magical, and the smell of fresh pine boughs is captivating, but trees that aren't watered regularly are disasters waiting to happen. Take a look at this incredible video from the National Fire Protection Association that demonstrates the flammability of a dry tree compared with one that has been watered regularly.
When purchasing a live tree, make sure you get a fresh specimen. A fresh tree is green, and its needles are difficult to remove and won't break when you bend them. The butt of a fresh tree is sticky with resin, and the tree should not lose many needles when tapped on the ground.
Cut a few inches off the trunk of your tree to expose fresh wood, which will allow it to better absorb water.
If you plan to buy an artificial tree, look for the label "fire resistant." Although this label does not mean the tree won't catch fire, it does indicate the tree will resist burning and should extinguish quickly.
Use only flame-resistant materials to trim a tree, and buy tinsel or artificial icicles made of plastic or nonleaded metals. Avoid ornaments that are sharp or breakable. If you have children, keep trimmings with small removable parts out of reach, and avoid those that resemble candy or food.
HOLIDAY LIGHTS
Never use electric lights on an artificial tree made of metal. The tree can become charged with electricity from defective lights, and a person touching a branch could be electrocuted.
Examine each set of lights for damaged sockets, frayed or bare wires, and faulty connections, and throw out run-down sets. Use no more than three standard-sized sets of lights per extension cord.
Fasten outdoor lights securely to trees, the house, or other firm supports to protect them from wind damage. Use insulated staples to hold strings in place — not nails or tacks. Or run strings of lights through hooks, which are available at hardware stores.
Plug all outdoor electric decorations into circuits with ground fault circuit interrupters to avoid potential shocks. Finally, remember to turn off all lights when you go to bed or leave the house to avoid any chance of a fire.
CANDLES
Keep candles on a stable, heat-resistant surface, and place them where kids and pets cannot reach them or knock them over. Place lighted candles away from items that can catch fire, such as trees, other evergreens, wrapping paper, and curtains.
Do not leave burning candles unattended, and extinguish them before you go to bed or leave the house.
(Image: Flickr/Elizabeth Ashley Jerman)