Here's a look at recent news of interest to homebuyers, home sellers, and the home-curious:
KITCHEN MOST IMPORTANT ROOM, HOMEBUYERS SAY
If you're preparing your home for sale within the coming months, you'd do well to pump a healthy portion of improvement funds into the kitchen, a new survey finds.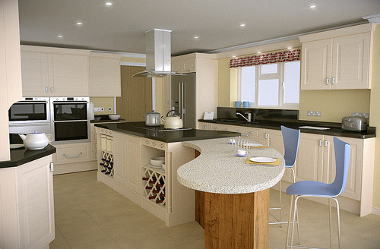 According to the poll conducted by homebuilding firm PulteGroup, 29 percent of respondents said the kitchen was the most important room to consider when purchasing a property. Twenty-three percent said an eat-in area was the top kitchen feature, while 22 percent cited the importance of an island.
The survey notes that spice kitchens are becoming particularly en vogue with California buyers. In Silicon Valley high-end kitchen appliances and countertops greatly appeal to home shoppers.
PulteGroup's study also discovered that more than one-third of buyers say coveted home amenities trump location and even schools.
---
SURPRISE: BAY AREA ACTUALLY NOT MOST EXPENSIVE PLACE IN U.S. TO BUY NEW HOME
With the Bay Area facing the double whammy of limited developable land and skyrocketing prices, one might expect new homes in the region to be the nation's costliest. However, the price tag for a new home here is only half what buyers shell out in one upscale Northeastern metro area.
A report from the National Association of Home Builders says the median price for a new home in the Bridgeport, Conn. metro area is $878,625, the most expensive in the country. By comparison, new homes in the San Jose ($447,432) and San Francisco ($441,837) areas almost seem like bargains.
The association found that California was one of a handful of states where the average cost to purchase a newly built home exceeded $350,000 in 2014. New homes in the state commanded a median price of $365,167, fifth highest in the country.
---
SILICON VALLEY SHOWING INTERNS THE MONEY
A recent survey from the California Association of Realtors pegged the age of the state's average homebuyer at 48, but if Silicon Valley continues to pay teenage interns healthy salaries, that number could be dropping.
Citing Glassdoor data, Bloomberg reports that the top five highest-paying companies for interns are Bay Area-based tech firms, with annual salaries ranging from $74,500 at Facebook to more than $84,000 at Palantir. By contrast, the average yearly salary in the U.S. was just more than $51,000 in 2012, according to U.S. Census Bureau statistics.
The article goes on to note that some Silicon Valley companies are so desperate for top tech talent that they're recruiting interns straight out of high school. Google, however, requires that interns be at least college freshmen.
---
BAY AREA RENTERS PAYING LANDLORDS HALF THEIR SALARIES
Bay Area renters who can afford to buy a home but are still sitting on the fence might find our region's current rent-price-to-income ratio a source of motivation to put on their game faces.
A recent blog post by Trulia Chief Economist Jed Kolko reveals that Oakland tenants forked over 49 percent of their salaries to cover the $2,550 monthly rental payment for a two-bedroom apartment. San Franciscans spent 48 percent of their wages to pay the $3,550 necessary to afford the same-sized unit in the nation's most expensive rental market.
And in what could be good news to hopeful Bay Area buyers who have been shut out of the action, price appreciation is moderating considerably across the Golden State.
"The price slowdown has been particularly sharp in the boom-and-bust markets of California and the Southwest, where the recession was severe, the recovery was dramatic, and the slowdown is now most pronounced," Kolko wrote.
(Photo: Flickr/Jonathaneyre323)